Wilson Center Mourns the Loss and Celebrates the Life of A. Ross Johnson
It is with a heavy heart that the Wilson Center shares news of the passing of A. Ross Johnson. Ross passed away on February 6, 2021.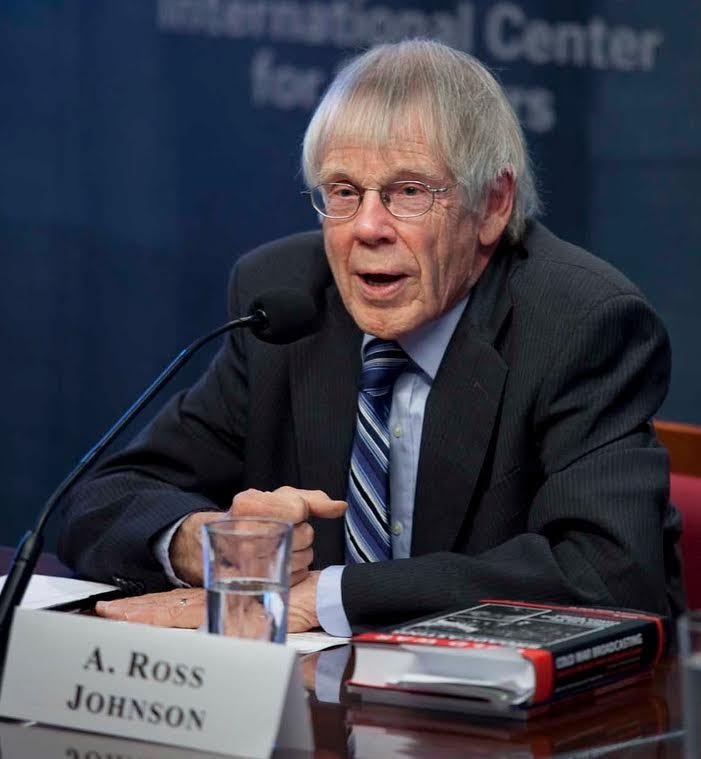 Ross was a long-time Public Policy Fellow and senior scholar at the Wilson Center, contributing greatly to the work of the History & Public Policy Program (HAPP), the Kennan Institute and the Global Europe Program.
During his time with the Wilson Center, Ross authored the book Radio Free Europe and Radio Liberty: The CIA Years and Beyond, published as part of the Center's series with Stanford University Press, as well as numerous policy briefs, blog posts, and reports on the history of Radio Free Europe/Radio Liberty (RFE/RL), and the contemporary politics of the Balkans. He spoke frequently on Wilson Center panels and organized many events and conferences.
Ross was the driving force behind a path-breaking October 2004 conference organized by the Wilson Center and Hoover Institution that brought together international researchers and former government officials to address the "Impact of Western broadcasting"—especially Radio Free Europe and Radio Liberty (RFE/RL)—during the Cold War. The conference was opened by George P. Shultz and Vaclav Havel who argued that the "influence and significance of RFE/RL broadcasts had been great and profound." The conference discussed papers based on research in previously inaccessible East European and former Soviet communist archives. These materials included secret Communist Party discussions of broadcasting impact and propaganda countermeasures, secret police plans to penetrate RFE/RL, directives on jamming, and internal secret audience surveys. Many of these materials are now available through the Cold War International History Project's Digital Archive.
Ross was also a tireless advocate for the declassification of U.S. documents from the Central Intelligence Agency and other U.S. government agencies concerning the history of RFE/RL, filing hundreds of Freedom of Information Act and Mandatory Declassification Review requests. Ross graciously shared many of the documents he obtained as a result of these efforts and helped CWIHP to establish a collection of over 250 documents about RFE/RL on DigitalArchive.org.
In the spirit of the Wilson Center, Ross sought to relate historical context to public policy issues.  
His 2017 paper on "Optimizing Governance of US International Media in Historical and International Context" critically reviewed the recent restructuring of U.S. international "broadcasting." In a 2012 History & Public Policy Program Occasional Paper, Ross and  R. Eugene Parta laid out "A 21st  Century Vision for U.S. Global Media," applying lessons from successful U.S. international broadcasting during the Cold War to the transformed geopolitical, media, and technological world of the post-Cold War period. They suggested a restatement  of mission and corresponding organizational changes  to ensure that international broadcasting remains an effective instrument of U.S. soft power –  one supporting freedom and democracy abroad in the national interest.
Before coming to the Wilson Center, Ross spent much of his career at Radio Free Europe/Radio Liberty, including as a senior executive of RFE/RL from 1988 to 2002, as director of Radio Free Europe, director of the RFE/RL Research Institute, and acting president and counselor of RFE/RL. He was also a research fellow at the Hoover Institution for many years and played a pivotal role in securing and making accessible the records of RFE/RL, comprising 10.5 million pages and more than 100,000 sound recordings from the 1950s to 2006. 
 In recognition of his contribution in preserving the archives of the RFE/RL Polish service, Ross received the Laurel Award from the prime minister of Poland in 2001 and a citation for Meritorious Service to Polish Culture from the Polish minister of culture in 1996.
At the time of his passing, Ross was working with the HAPP's Cold War International History Project to publish nearly 75 new records that he had recently obtained from the CIA. We will publish these sources in honor of Ross as soon as possible.
Ross will be dearly missed by the Wilson Center community and the many individuals in Eastern and Central Europe (many Wilson alumni) to whom he dedicated his career. We mourn his loss.