Art as a Tool of Empowerment for Libyan Women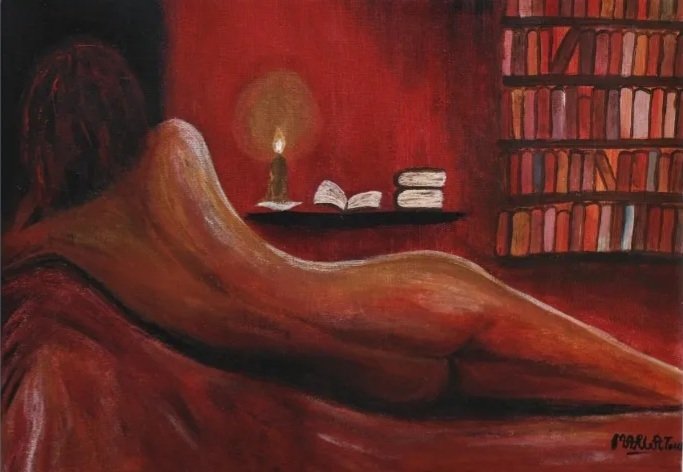 ...art has become an extremely powerful tool for women to express and communicate complex thoughts and emotions.
In places where freedom of expression is restricted, art becomes a means by which women's voices can be amplified. In a country like Libya, gendered spaces hinder the ability of women to move freely in both the physical and the metaphorical sense. As men continue to occupy public spaces where conversations about the economy, politics and business often take place, women face barriers to integrate their voices into the public discourse. Thus, sociopolitical and socioeconomic affairs tend to have a male's voice. 
However, the 2011 Arab uprising changed this dynamic as we began to see women take on roles that are often dominated by men. One significant transformation is seen in the arts, particularly by female artists. Political expression, for instance, often voiced by men, has and continues to be challenged by women's voices through art. Today, we see women reclaiming their history, heritage, and culture, and demanding political change using intricate artistic expressions that historically would have subjected them to social and political harassment. 
Femininity is another important yet controversial topic for women to freely express in Libya. Women are taught that the female body must be veiled from the public eye, and ought to be confined to private spaces only. In such a social dynamic, women experience a deep sense of shame, accompanied with fear from societal disapproval, which in turn hinders their ability to raise their feminine voices. What I believe to be revolutionary is how women in Libya use art to transcend such gendered boundaries and express femininity in all of its complexity.
For example, a daring - by societal standards - and talented artist held an art exhibition in Tripoli featuring paintings of female bodies, calling it "Libyan Women". Although this led to an unnecessary yet expected negative reaction by the general public, it has opened a path for conversations, even if they were uncomfortable. The issue here lies not only in society's standards of modesty but also the politicization of the female body of a Libyan woman. Society's gaze changes depending on the nation to which the body belongs. In this case, the expression of a "Libyan" female body becomes particularly offensive.  
Another young artist in Libya often uses some type of expression of a nude woman in her paintings. In a series of acrylic paintings, she draws herself during her academic journey in higher education. And what is so intriguing about her paintings in this series is the presence of a female body that would otherwise never be addressed nor discussed in a different setting. When asked about her paintings, she responded, "The women in my paintings are me. I am my paintings." It is in this moment that one realizes how art has become an extremely powerful tool for women to express and communicate complex thoughts and emotions.  
While women in Libya have used art to challenge stereotypes, provide political commentary, and express their often-veiled femininity, we still see young women artists afraid to reveal their identities to the public. Some artists would choose to hide their names and faces from their artwork, out of fear of becoming socially alienated. Today, I continue to meet artists who want their art to reach global levels but are still too afraid to share a photo of their face. 
It is vital to point out that women face these challenges all over the world. However, my experience as a Libyan woman who also runs an art social enterprise, permits me to only speak about the Libyan experience. It is my observation that women in Libya have contributed significantly to the arts scene, while at the same time used art as a medium to move in a country where movement is highly restrictive. 
About the Author
---
Middle East Program
The Wilson Center's Middle East Program serves as a crucial resource for the policymaking community and beyond, providing analyses and research that helps inform U.S. foreign policymaking, stimulates public debate, and expands knowledge about issues in the wider Middle East and North Africa (MENA) region. Read more
Middle East Women's Initiative
The Middle East Women's Initiative (MEWI) promotes the empowerment of women in the region through an open and inclusive dialogue with women leaders from the Middle East and continuous research. Read more