Russia's Super-Important Nonelections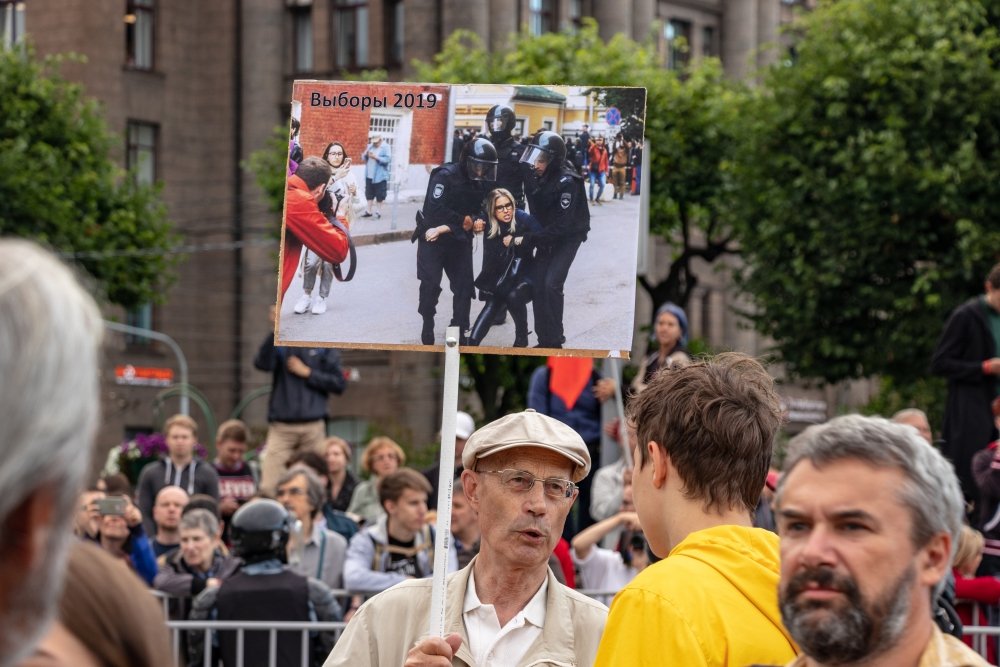 Photo: An elderly man holds a banner at a rally with a photo of opposition politician Lyubov Sobol being detained. Source: Shutterstock.
BY MAXIM TRUDOLYUBOV
The Moscow City Council election would normally be a dull affair that few voters cared about. But this year's election is already hot. A number of prospective candidates claim they have been illegally denied their right to run. The authorities threaten the malcontents with prosecution. Opposition activists, in turn, stage rallies and plan to do more.
Few expected a council election to attract this much attention and therefore cause trouble for the authorities. The municipal authorities in Moscow were sure that their refusal to register prospective candidates would be seen as a routine event that only strengthened the public's election fatigue. A low profile and a low turnout would be their ideal conditions for this nonevent, scheduled for September 8.
"And yet the injustice, the obviously far-fetched reasons for the refusal, caused widespread indignation and compelled some voters to join large rallies and demand that their candidates be accepted to run," Grigory Melkonyants, co-chair of the election monitoring NGO Golos said in an interview. 
The electoral rules, including those for city council elections, have been designed to daunt any outsider who might consider running. In 2014, when some independent and opposition candidates tried to take part in a similar election in Moscow, they could not get over an entry barrier: the need to collect documented, handwritten signatures from 3 percent of the residents of their respective districts. Because of the large size of Moscow's electoral districts, that would mean getting signatures from more than 5,000 people. If this figure does not sound like a lot, consider that those signatures must be collected in person during the summer, when many are away from home, and many of those who are home will not open the door, and many of those who open the door are not interested in elections, let alone in supporting the political opposition.
The story of the Moscow City Council election is turning into a case study example of how elections work in an authoritarian system that poses as a democracy. "Electoral autocracies are special because they allow political participation for the opposition. What they do not allow is for the opposition to actually get elected to office," the political scientist Grigory Golosov tells me in an interview. "The level of repression is a reflection of the authorities' expectations of the opposition's chances to win. If the opposition's chances are starting to look real, the repression will heighten in response."
Russia's Investigative Committee has already initiated a criminal case, ironically, against the obstruction of citizens' electoral rights. Commentators say this is a first, as this particular Criminal Code article has not been used before. The article in question was apparently meant to punish officials who sought to use their power to prevent citizens from exercising their constitutional rights to elect or be elected. Using this language against people who were denied registration as candidates requires a lot of rhetorical skill.
The investigators have conducted searches of the apartments of some of the prospective candidates and subpoenaed them for questioning in their districts' police precincts. Alexey Navalny, the anticorruption crusader, whose close associates are among the prospective candidates, was charged with inciting an illegal public gathering and jailed for thirty days.
Normally a regime like Russia's would work to eliminate the opposition's chances to get elected between elections. The actual election then becomes a perfect showcase for popular unity and approval of the ruling elites. But this time things are going wrong.
The authorities failed to be up to date. The independents and the opposition candidates learned from their failure five years ago. They started their preparations early, attracted contributions from the public, hired people to help with collecting the required signatures, set up district headquarters, and called for voters to come and leave signatures for their prospective candidates.
Most people on the campaign staffs worked as volunteers. For some it meant twelve-hour days walking from door to door in the pouring rain or in intense heat and dealing with refusal and abuse. Signature collectors for one of the prospective candidates, Lyubov Sobol, were attacked with feces. Sobol, who is thirty-two, has worked for Alexey Navalny's organization since 2011 and is now a producer for his YouTube channel. Sobol is an activist in her own right and has exposed the use of expired and low-quality foods in Moscow's school canteens.
Of all the candidates who were refused registry, Sobol is the most visible and active. She started a hunger strike after a large number of the signatures she presented were rejected by the electoral commission. Sobol claims she has enough clean signatures to qualify as a candidate. But the commission refused to give in even after some of those whose signatures were rejected as fake showed up and said they were ready to prove they were real. After the rejection, Sobol refused to leave the commission's building. The authorities tried to evict her by carrying out the bench on which she was seated. Sobol is gaining an almost cult-like following these days because of her defiant stance, something that many in Russia have grown unaccustomed to.
All in all, the Moscow City Council elections are already a big mess from the Kremlin's point of view. Observers say the Kremlin has assumed oversight of this regional election even though the election is supposed to be run by a regional government, Moscow's municipal government (Moscow is not just a city but one of Russia's eighty-five federal regions). Threats of criminal prosecution and crackdowns on protest activity are signs that Moscow is starting to treat the purported nonevent as a serious threat.
"Heightened repression is not a preferred scenario for the Russian authorities. Their preferred scenario is when the public is supportive of them. The threat of the opposition winning an election is normally prevented because of the regime's popularity and the public's passivity," the political scientist Golosov explains. But currently the Kremlin's approval ratings are not stellar, if still solid by any measure. The lengths to which the authorities are prepared to go to make sure young opposition figures are denied even relatively harmless city council positions are telling. This is why elections are important for Moscow—important in their own peculiar way.
About the Author
Maxim Trudolyubov
Senior Advisor; Editor-in-Chief, Russia File,
Editor-at-Large, Vedomosti Daily
Maxim Trudolyubov is a Senior Fellow at the Kennan Institute and the Editor-at-Large of Vedomosti, an independent Russian daily. Mr. Trudolyubov was the editorial page editor of Vedomosti between 2003 and 2015. He has been a contributing opinion writer for The International New York Times since the fall of 2013. Mr. Trudolyubov writes The Russia File blog for the Kennan Institute and oversees special publications.
Read More
---
Kennan Institute
The Kennan Institute is the premier U.S. center for advanced research on Russia and Eurasia and the oldest and largest regional program at the Woodrow Wilson International Center for Scholars. The Kennan Institute is committed to improving American expertise and knowledge of Russia, Ukraine, and the region. Through its residential fellowship programs, public lectures, workshops, and publications, the Institute strives to attract, publicize, and integrate new research into the policy community. Read more