Special Edition: Interview with Lelwy Abdullah, Co-Chair of Deir Ezzor Military Council in Syria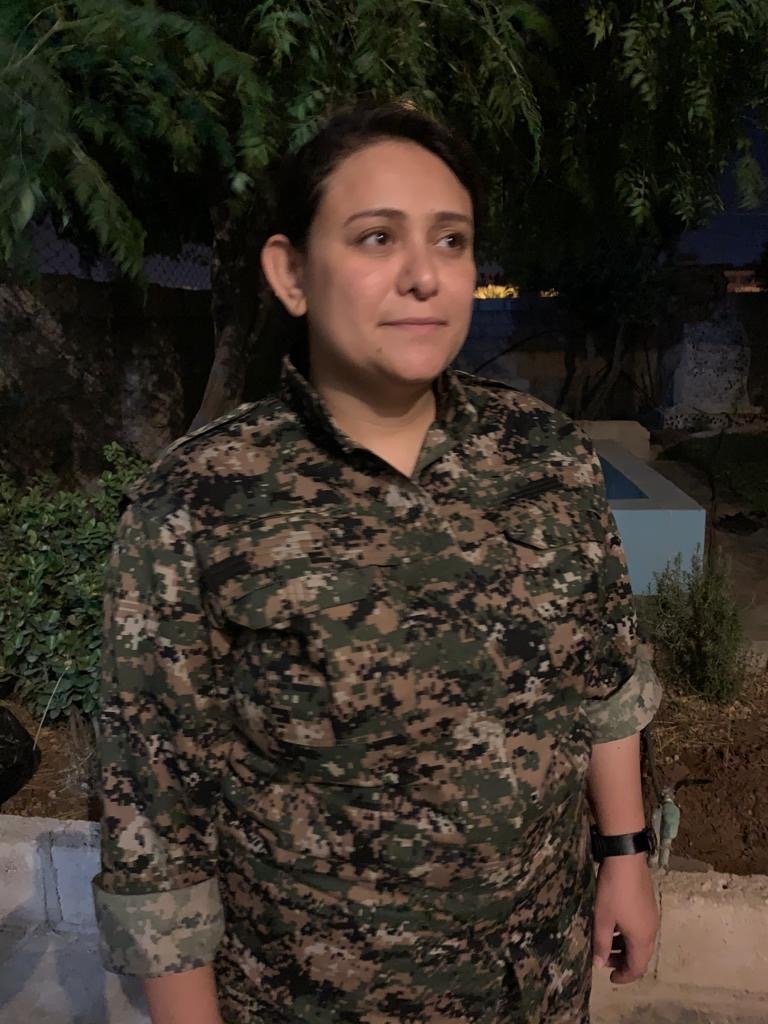 I joined the SDF because I wanted to be one of the people who helps to liberate the area from the Islamic State.
In this special edition of Enheduanna, Wilson Center Global Fellow Amy Austin Holmes interviews Lelwy Abdullah, Co-Chair of Deir Ezzor Military Council in Syria.
Lelwy Abdullah was born and raised in Deir Ezzor. After finishing high school in her hometown, she studied agricultural engineering at Furat University in Al-Hasakeh. In 2016, she enlisted in the Kurdish-led Syrian Democratic Forces (SDF). As a member of the SDF she fought in numerous battles against the Islamic State including in Manbij, Raqqa, and Deir Ezzor. In March 2019 she became the first Arab woman to be Co-Chair of the Deir Ezzor Military Council.
September 13, 2020, Qamishli, Syria
When you joined the Kurdish-led Syrian Democratic Forces (SDF) in 2016, you were one of the first Arab women to do so. You are now in a leadership position in the SDF as Co-Chair of the Deir Ezzor Military Council. Why did you want to enlist in the SDF?
I joined the SDF because I wanted to be one of the people who helps to liberate the area from the Islamic State. I remember once in 2016 I was traveling through the countryside of Deir Ezzor, which was under the control of ISIS. I saw how an ISIS man was whipping a woman, saying she was not supposed to show her hands. And at the entrance of the city of Mayadeen, I saw human heads on a post. I thought it was some kind of nightmare, that it couldn't be real. But it was. Five of my cousins were killed by Da'esh. This is why I wanted to be part of the SDF.
Did you face any kinds of challenges to joining the SDF?
It was not always easy, but my husband and my parents supported me.  I am from the Shammar tribe. In our culture, when a woman gets married, she essentially becomes part of her husband's family. And my parents-in-law did not like the idea of me joining a military force. But my husband and I joined the SDF at the same time, and they are slowly accepting my situation.
How do you see the current situation in Deir Ezzor?
There are many different sleeper cells: ISIS sleeper cells, Iranian regime backed sleeper cells, and also Free Syrian Army (FSA) sleeper cells. They are creating conflict. They are targeting heads of the tribes in order to create a chaotic situation there. We are trying to work on improving this social situation.
There have recently been several assassinations of heads of tribes in Deir Ezzor. How has the SDF responded to this situation? Especially when they try to blame the attacks on the SDF?
The assassinations of tribal leaders are an attempt to provoke conflict between the tribes, especially between the Baggara and Ageedat, the two biggest tribes in the region.  Sheikh Mutasher Al-Jadaan Al-Hafl was a member of the Ageedat tribe, and was assassinated on the first day of the Eid when he was returning from a tribal reconciliation session. Ali El Wais was the Mukhtar of the Dachla village, and a member of the Baggara tribe. He was also assassinated and they even tried to blame this on the SDF. They are trying to create a conflict in this way. We listened to people, we waited three days until people calmed down, then we went to the funeral tents to offer our condolences. We want to give them the message that we are there to help. We liberated the area because we want to establish a democratic system. We paid the cost with our martyrs' blood, so of course we don't want to kill them.
The Self Administration of North and East Syria has passed laws that prohibit polygamy and underage marriage. However, these laws have not yet been fully implemented in Deir Ezzor and Raqqa. Can you explain why?
Regarding the issue of polygamy, of course we are not able to implement those laws fully in Raqqa and Deir Ezzor because of the prevalent mentality there. However, when it comes to early-child marriage, we are controlling the situation – we have been able to prevent this for the most part. Polygamy it is more challenging. Sometimes men who don't have four wives will be excluded from social gatherings, because they are seen as 'not a real man'. Polygamy is a real problem in Deir Ezzor. Once there was a woman with a Tunisian accent; she was fully covered, wearing a niqab. We thought she was an ISIS woman, so we arrested her. But it turns out she was one of the wives of someone from the Sheitat tribe, who he married when he travelled to Tunisia. So of course, we released her. But what can we do? We cannot break up polygamous marriages.
Are you confident that the SDF can maintain control of Deir Ezzor? Or are you worried about a tribal uprising against SDF?
No, a tribal uprising will never happen. We do believe that we as SDF will continue our existence in Deir Ezzor. Because the population supports us. They don't respond to the provocations of the regime. Most of the SDF in Deir are the sons and daughters of Deir Ezzor. There are problems, but I don't expect there will be an uprising.
Is conscription being implemented in Deir Ezzor for men?
No, it is still not being implemented. There is no need for us to implement conscription, because people are volunteering to join the SDF. Of course, we are considering it. In the future we might implement conscription if the security situation improves.
Do you think there are enough Arabs in leadership positions in the SDF?
Of course, we want more Arabs to be in leadership positions, but it's not like someone will select you to be a leader because it depends on your personality as a hard worker – no one will promote you based on your ethnicity. You have to prove yourself.
There are reports about Kurds dominating the SDF and the Autonomous Administration – what do you think?
For us, there is no difference between Kurds, Arabs, or Assyrians. The ones who are mentioning this point are trying to create tension (fitna) between us.
There are tens of thousands of ISIS detainees who are now being held in detention facilities in North and East Syria. What do you think will happen to them? Do you believe ISIS detainees can be reintegrated into society?
We believe in deradicalization. I witnessed that in one detention facility they established a council and committees. There is a hope that after they know this democratic system that they can be integrated into the community. Some of the local Syrians joined ISIS because of the life conditions, because of their economic situation. But for the foreigners who joined ISIS, it is different.
How do you see the relationship with the US-led Coalition, especially after the partial US withdrawal in October 2019?
The cooperation with the Coalition is very important and essential. We want them to look to the SDF as a responsibility for themselves. We want this project in North and East Syria to be implemented all over Syria. We want it to inspire all the Middle East.
About the Author
---
Middle East Program
The Wilson Center's Middle East Program serves as a crucial resource for the policymaking community and beyond, providing analyses and research that helps inform U.S. foreign policymaking, stimulates public debate, and expands knowledge about issues in the wider Middle East and North Africa (MENA) region. Read more
Middle East Women's Initiative
The Middle East Women's Initiative (MEWI) promotes the empowerment of women in the region through an open and inclusive dialogue with women leaders from the Middle East and continuous research. Read more