ASEAN's Role in a U.S. Indo-Pacific Strategy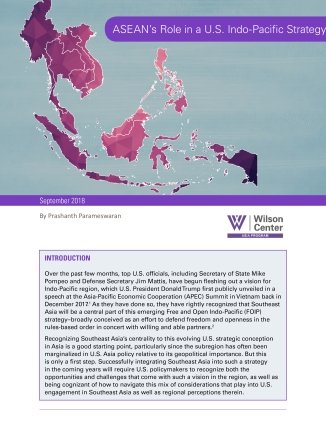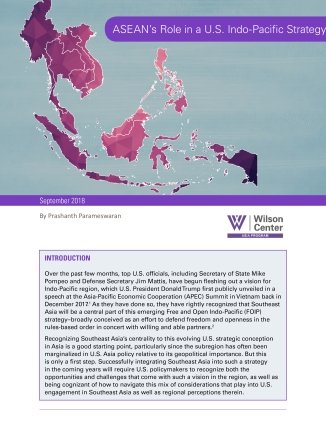 Over the past few months, top U.S. officials, including Secretary of State Mike Pompeo and Defense Secretary Jim Mattis, have begun fleshing out a vision for Indo-Pacific region, which U.S. President Donald Trump first publicly unveiled in a speech at the Asia-Pacific Economic Cooperation (APEC) Summit in Vietnam back in December 2017. As they have done so, they have rightly recognized that Southeast Asia will be a central part of this emerging Free and Open Indo-Pacific (FOIP) strategy–broadly conceived as an effort to defend freedom and openness in the rules-based order in concert with willing and able partners.
Recognizing Southeast Asia's centrality to this evolving U.S. strategic conception in Asia is a good starting point, particularly since the subregion has often been marginalized in U.S. Asia policy relative to its geopolitical importance. But this is only a first step. Successfully integrating Southeast Asia into such a strategy in the coming years will require U.S. policymakers to recognize both the opportunities and challenges that come with such a vision in the region, as well as being cognizant of how to navigate this mix of considerations that play into U.S. engagement in Southeast Asia as well as regional perceptions therein.
Global Fellow Prashanth Parameswaran looks at the challenges involved, and then suggests ways to accomplish the integration of Southeast Asia in the U.S. strategy with the "five Cs" in this report. 
About the Author
Prashanth Parameswaran
Global Fellow;
CEO and Founder, ASEAN Wonk Global, and Senior Columnist, The Diplomat
Read More
---
Asia Program
The Asia Program promotes policy debate and intellectual discussions on U.S. interests in the Asia-Pacific as well as political, economic, security, and social issues relating to the world's most populous and economically dynamic region.  Read more