Canadian Ambassador to the United States Gary Doer named co-chair of Canada Institute Advisory Board
"Care for the Canada-U.S. relationship is a calling that does not evaporate when you stop being Ambassador," said Ambassador Doer. "I'm excited to work with this team and use the knowledge I've gained over the past years to continue to support success in North America."
WASHINGTON — The Canada Institute, at the Wilson Center, is pleased to announce Gary Doer, Canadian Ambassador to the United States, has been named co-chair of the Canada Institute Advisory Board. Ambassador Doer will assume the position upon completion of his duties as ambassador.
Ambassador Doer joins the Hon. David Jacobson, Vice Chair, BMO Financial Group and former U.S. Ambassador to Canada and Hugh MacKinnon, Chairman and CEO, Bennett Jones LLP, to form an impressive leadership group that will guide both the Institute and North America on key matters facing the Canada-U.S. relationship.
The announcement was celebrated at a special event in Washington this morning hosted by Representative Jane Harman, President of the Wilson Center, where key bilateral leaders such as Sue Saarnio, Deputy Assistant Secretary for the Bureau of Western Hemisphere at the U.S. Department of State, came together to discuss future challenges and opportunities facing the relationship.
"We find ourselves at a critical intersection in Canada – U.S. relations, " said Canada Institute Director Laura Dawson. "Significant opportunities are open to us if we take action and work together.  We are fortunate to have the best and most experienced thinkers in Canada-U.S. relations guiding us in that effort."
"Care for the Canada-U.S. relationship is a calling that does not evaporate when you stop being Ambassador," said Ambassador Doer. "I'm excited to work with this team and use the knowledge I've gained over the past years to continue to support success in North America."
After he officially departs from post, Doer is expected to focus on supporting shared growth in international trade, collaborating on energy efficiency including the support of renewables and sustainable infrastructure and thinking about the future of water in North America.  As Canada Institute Co-Chair, Doer will be reunited with his former colleague and fellow Co-Chair, David Jacobson, with whom he collaborated to launch a number of important programs including the Canada-US Beyond the Border initiative.
For more information please contact Drew Sample in the United States (Drew.Sample@wilsoncenter.org) or 202-691-4379; or Sophie Nadeau in Canada (snadeau25@gmail.com) or 613-266-7587
Contributor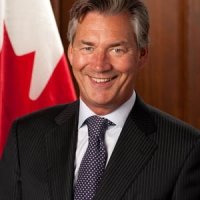 Hon. Gary Doer
Canada Institute Advisory Board Co-Chair;
Former Ambassador of Canada to the United States
Read More
---
Canada Institute
Bound by common geopolitical interests and strong economic and cultural ties, Canada and the United States enjoy the world's most successful bilateral relationship. The Wilson Center's Canada Institute is the only public policy forum in the world dedicated to the full spectrum of Canada-U.S. issues. The Canada Institute is a global leader for policymakers, academics and business leaders to engage in non-partisan, informed dialogue about the current and future state of the relationship.    Read more