Duncan Wood and Alejandro Hope on Mexico's drug cartels and ongoing violence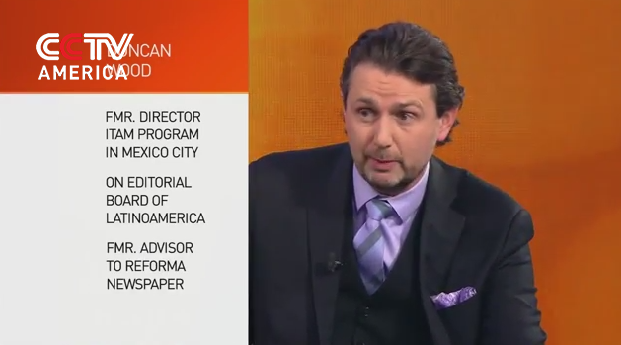 " For years, violent drug cartels have terrorized large parts of Mexico. Armed with sophisticated weapons, they are engaged in major drug trafficking and other illegal activities. It's estimated that more than 80,000 people have been killed since Mexico launched a war on the cartels in 2006 and thousands more have been kidnapped, some have even been beheaded. Amid all the violence, Mexico has also faced allegations of government and police corruptions. Journalists who have dared to cover these issues are often murdered."
CCTV America's The Heat interviewed Mexico Institute Director Duncan Wood and Alejandro Hope, an independent security analyst, about the ongoing violence and what Mexico is doing to combat the cartels. 
To watch the interview, click here.
---
Hosted By
Mexico Institute
The Mexico Institute seeks to improve understanding, communication, and cooperation between Mexico and the United States by promoting original research, encouraging public discussion, and proposing policy options for enhancing the bilateral relationship. A binational Advisory Board, chaired by Luis Téllez and Earl Anthony Wayne, oversees the work of the Mexico Institute.  Read more