On the Horizon 2021 | Latin America
Here are three things to watch in Latin America in 2021.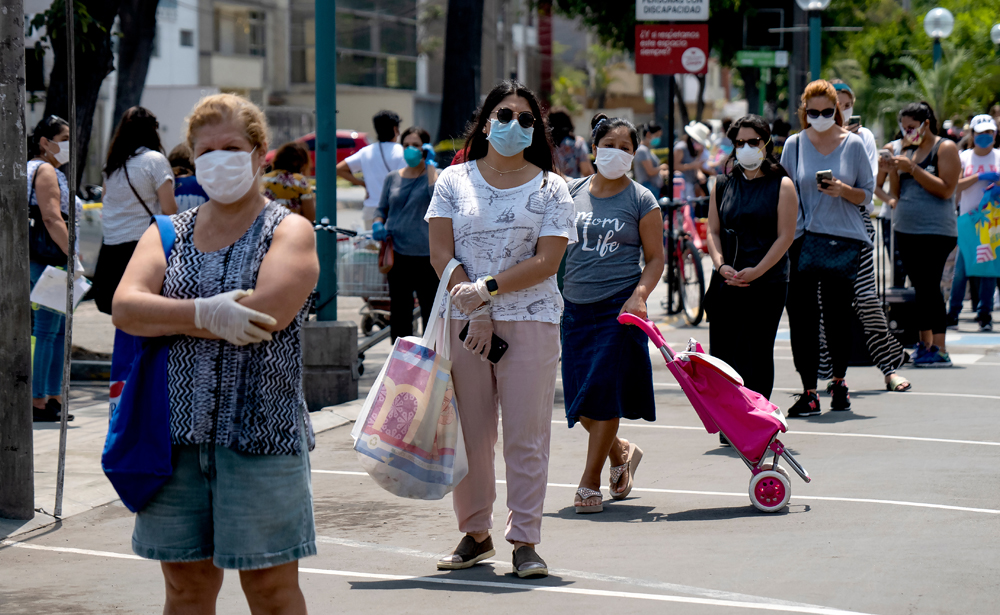 COVID-19 and Regional Economies
Latin America's total COVID-19 cases exceeded 13.5 million by early December, making it a global hotspot, and the highest per capita death rate in the world. And the economic fallout is worse than in any other region. The IMF expects negative 8.1 percent GDP growth in 2020, and double-digit contractions in Argentina, Ecuador, Peru, and Venezuela. Fully 37 percent of the region's population will experience poverty. And the worst may be yet to come, as a J.P. Morgan assessment places regional growth at only 3.6 percent in 2021. This sluggish recovery will depress tax revenue as leaders struggle to sustain massive social stimulus. Debt is a concern: regional governments have borrowed $48 billion in 2020, 13 percent higher than in 2019. Yet there are glimmers of hope. Interest rates are low. Lenders have stepped up. China's recovery buoyed prices for the region's commodities. And the U.S. hosts the Summit of the Americas in 2021, holding the promise of robust reengagement.
Migration and Politics
Four countries in Central America—Guatemala, Honduras, El Salvador, and Nicaragua—will likely dominate the 2020 news cycle. All four nations are contending with health, climate, and political crises that may drive large numbers of migrants to Mexico and the United States. Honduras and Nicaragua are coping with the devastation from two strong hurricanes which destroyed much of Honduras' industry and agriculture. Both President Nayib Bukele in El Salvador and President Daniel Ortega in Nicaragua (who faces elections this year) stepped up harassment of political opponents and media outlets, a development likely to bring both leaders into conflict with a Biden administration committed to the defense of democratic institutions. The challenge for the Biden will be advancing an ambitious agenda in Central America to tackle the root causes of continuing migration crises with governments indifferent or hostile to reforms encouraged by the United States.
Grim Prospects in Venezuela
Venezuela's political, economic, and humanitarian crises showed no sign of abating as Nicolás Maduro moved to consolidate his authoritarian rule. Legislative elections held on December 6, 2020 drew international condemnation, but ended the opposition control of the National Assembly and undermined Juan Guaidó's interim presidency. Oil production plummeted, anchoring a catastrophic economic contraction of 80 percent of GDP since 2013. More than 95 percent of households live in poverty. The Trump administration's "maximum pressure" strategy of crippling sanctions failed to dislodge Maduro, whose allies and commercial partners—Russia, Iran, Cuba, Turkey, China, and India—provided enough essential support to help his regime survive. Venezuela's economic implosion has led to an exodus of 5.4 million people, straining the resources of neighboring countries already suffering from COVID-19-induced decline. Assisting Venezuela's neighbors financially while expanding nonpartisan humanitarian relief inside the country should be a first goal of the Biden administration.
---
Latin American Program
The Wilson Center's prestigious Latin American Program provides non-partisan expertise to a broad community of decision makers in the United States and Latin America on critical policy issues facing the Hemisphere. The Program provides insightful and actionable research for policymakers, private sector leaders, journalists, and public intellectuals in the United States and Latin America. To bridge the gap between scholarship and policy action, it fosters new inquiry, sponsors high-level public and private meetings among multiple stakeholders, and explores policy options to improve outcomes for citizens throughout the Americas. Drawing on the Wilson Center's strength as the nation's key non-partisan forum, the Program serves as a trusted source of analysis and a vital point of contact between the worlds of scholarship and action. Read more