The Month in U.S. - China Relations (February 2018) 中美关系月报
It remains to be seen whether Xi will indeed stay in power following 2023, but there is little doubt of who will lead the world's second largest economy for the foreseeable future. There is no consensus, however, on whether the move is a sign of Xi's strength or weakness. Perhaps a better question is: Why now? Ever since Deng Xiaoping's peaceful transfer of power to Jiang Zemin nearly three decades ago, perceptions were that Chinese Communist Party (CCP) had seemingly figured out how to peacefully transfer power while retaining absolute control of the nation. Stability and control are the main objectives of a Party that believes it is threatened by outside forces. And it appears that, for most Chinese citizens, a stable CCP is the key to China's prosperity and global status.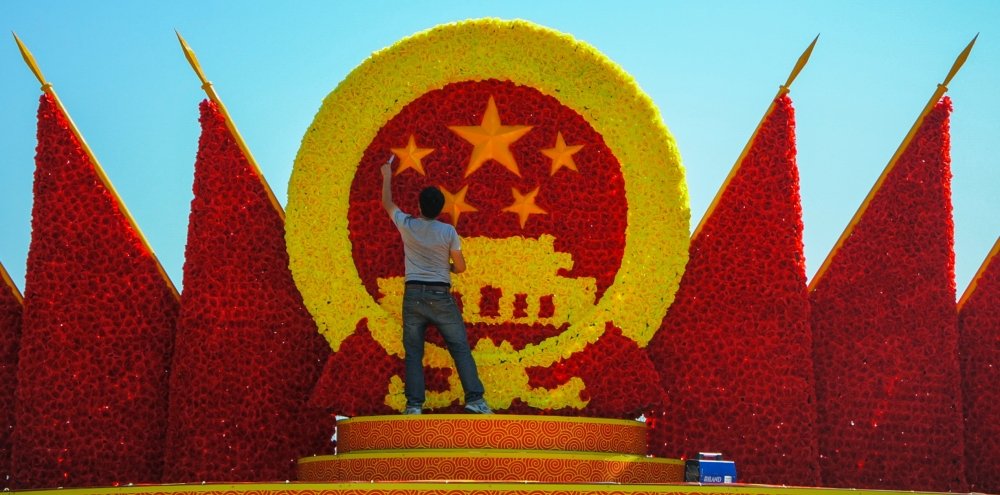 Chinese President Xi Jinping's decision not to appoint a clear successor at the 19th Party Congress last October led many to believe he would flout the state constitution and remain in power after his second term expires in 2023. Xi flouted away on Sunday when the Party recommended that term limits on the president and vice president be removed from constitutional text. It remains to be seen whether Xi will indeed stay in power following 2023, but there is little doubt of who will lead the world's second largest economy for the foreseeable future. There is no consensus, however, on whether the move is a sign of Xi's strength or weakness. Perhaps a better question is: Why now? Ever since Deng Xiaoping's peaceful transfer of power to Jiang Zemin nearly three decades ago, perceptions were that Chinese Communist Party (CCP) had seemingly figured out how to peacefully transfer power while retaining absolute control of the nation. Stability and control are the main objectives of a Party that believes it is threatened by outside forces. And it appears that, for most Chinese citizens, a stable CCP is the key to China's prosperity and global status.
Sandy Pho
Senior Program Associate
Kissinger Institute on China and the United States
Major Issue Tracker
China as an Emerging Superpower
China, UK to Sign $13 Billion in Deals on Theresa May Trip (February 1): British Prime Minister May met representatives from a newly formed council of 31 Chinese and British firms covering industries including finance, energy and pharmaceuticals. "The council will become an important platform for Chinese and British entrepreneurs to deepen cooperation under the Belt and Road framework…" Related: May Resists Pressure to Endorse China's 'New Silk Road' Project (subscription); Britain to Sail Through South China Sea Next Month; UK Cyber Security Agency Sticks with China's Huawei Despite U.S. Concerns.
Latin America Should not Rely on China: U.S. Secretary of State Tillerson (February 1): "Today China is getting a foothold in Latin America. It is using economic statecraft to pull the region into its orbit; the question is at what price," Tillerson said at the University of Texas at Austin en route to Mexico. Related: Tillerson Extols 19th-Century U.S. Foreign Policy in Latin America (subscription); Turning Tides: Chinese Cash Flows into Latin America.
Beijing Sends New Envoy to Kabul, Wants Bigger Role for Afghanistan in New Silk Road (February 2): Xi's announcement that Liu Jinsong was the new envoy came after Beijing said it wanted to include Afghanistan in the China-Pakistan Economic Corridor, under which China is developing the Gwadar port, where it is reportedly planning to build a military base.
Icy Xi-Speak and Northerly Exoprop: The Arctic White Paper (February 2): More than for what it says, largely confirming well-known policies, the paper is interesting for what it doesn't. Related: The Polar Silk Road: China's Arctic Ambitions (audio recording); Unattended Chinese Stations in Antarctic Not Open to Visitors.
As U.S. Culls Diplomats, China Is Empowering Its Ambassadors (February 7): According to Bloomberg, the plan calls for most agencies to stop replacing staff in Chinese embassies by next year, giving ambassadors direct control over their portfolios. Related: With Eye on U.S., China to Revamp Top Tier of Diplomats.
Mapped: Chinese Exports Take Over the World (February 9): Erica Pandey writes for Axios, two decades ago, China's gross exports were on par with the Netherlands, and only North Korea relied on the world's most populous country as its primary source of imports. Now, China exports far more than any country on earth, and is the top supplier of countries in every corner of the world.
China to India: Respect Maldives' Sovereignty (February 8): According to The Diplomat, a political crisis is underway in the Maldives, an island nation in the Indian Ocean that finds itself in the middle of Sino-Indian competition. China's growing presence in the Maldives is a serious concern to India given the latter's geographic proximity to the Indian coastline. The Maldives also sit near international sea lanes through which India's oil imports traverse. Related: India's Choice in the Maldives (Opinion).
U.S. FBI Director Says Chinese Society is a Threat to the United States (February 13): FBI Director Christopher Wray reiterated a commonly held view among U.S. intelligence officials that China is seeking to become a global superpower through unconventional means — but he framed it as both a governmental and a societal threat to the United States. He also told Congress that Chinese students in the United States may be covertly gathering intelligence. Related: China Using 'Tentacles' to Erode U.S. Security, Senator Warns; Six top U.S. Intelligence Chiefs Caution Against Buying Huawei Phones; The United Front Work Department in Action Abroad.
Driven by India into China's Arms, Is Nepal the New Sri Lanka? (February 25):  As a new government takes power in Kathmandu and a rift with New Dehli widens, Nepal seeks a hedge in China to counterbalance India's traditional dominance. Beijing, itself looking to tighten its toehold in a strategically important country bordering Tibet…Read More>>
7 Things You Need to Know About Lifting Term Limits for Xi Jinping (February 27):
Jeffrey Bader writes: This bolt out of the blue changes decades of Chinese government practice and appears also to be the prelude to changing the Communist Party norm that leaders cannot serve a new term after age 68. Related: Xi Jinping Extends Power, and China Braces for a New Cold War (subscription).
U.S. Asia Policy
Susan Thornton Nomination Hearing (February 15): Susan Thornton, a career diplomat who speaks both Russian and Chinese, was long favored by Secretary of State Rex Tillerson but was opposed by former White House Chief Strategist Steven Bannon, who left the administration last summer. Video and a transcript of her testimony can be viewed here.
GOP Pressures Trump on Taiwan as China Issues Threats (February 2): In exclusive interviews with POLITICO, Taiwanese officials urged Trump to stand firm, saying Beijing has stepped up a campaign of political and military intimidation during the president's first year in office. Related: Independence Referendum Launched in Taiwan, Backed by Former Presidents.
Harry Harris Named New U.S. Ambassador to Australia (February 10): According to The Australian, the move is likely to anger Beijing, given Admiral Harris's hawkish views on China, but it will be seen as a coup by the Turnbull government to have such a well qualified and senior former US military officer in the role at a time of growing strategic uncertainty in the region.
Australia, U.S., India and Japan in Talks to Establish Belt and Road Alternative (February 18): "No one is saying China should not build infrastructure," an unnamed U.S. official was quoted as saying. "China might build a port which, on its own is not economically viable. We could make it economically viable by building a road or rail line linking that port"…Read More>>
U.S. Sanctions Nine Chinese Firms for North Korea Ties (February 24): The nine Chinese firms sanctioned include two on the Chinese mainland, namely the Shandong province-based Weihai World-Shipping Freight Agency Co. Ltd., and the Shanghai-based Shanghai Dongfeng Shipping Co. Ltd. Related: Five Things to Know About Trump's New North Korea Sanctions; No 'Bloody Nose' Plan for North Korea: U.S. Official, Senators; Donald Trump's North Korea Point Man Set to Quit.
Military
2018 Nuclear Posture Review (February 3): Professor of Strategy in the U.S. Naval War College, Dr. Andrew Erickson posted the full text and key China-related excerpts on his blog for easing reading. Related: China and Trump's Nuclear Posture Review.
U.S. Promoting Cooperation with China in Afghanistan (February 6): Assistant Secretary for Asia at the Department of Defense, Randall Shriver told the Senate Foreign Relations Committee that "In our discussions with China, it is an agenda item how we promote our cooperation and how we can ensure that they are a constructive participant in the process that's underway in Afghanistan"…Read More>>
The Globalization of China's Military Power (February 13): According to the BBC, last year the first hull of China's latest warship - the Type 55 cruiser - was put into the water. Its capabilities would give any NATO navy pause for thought. Related: Numbers Matter: China's Three 'Navies' Each Have the World's Most Ships; China's Military Flexes Muscles for Domestic Objective: More Funding.
Southeast Asia and the South China Sea
New Photos Show China is Nearly Done with Its Militarization of South China Sea (February 6): Most of the photos, taken between June and December 2017, were snapped from an altitude of 1,500 meters and they showed the reefs that had been transformed into artificial islands in the final stages of development as air and naval bases. Related: Philippines President Duterte's Response: No War Option; Duterte Reneges on China Deal, Bans Foreign Research Ships.
Senior U.S. Diplomat Pitches Arms Sales in China's Backyard (February 5): A large U.S. delegation at the Singapore Air Show is doing "everything we can" to encourage Southeast Asian governments to purchase U.S.-made arms like the F-35 fighter jet, Ambassador Tina Kaidanow told reporters in a telephone briefing. She repeatedly sought to dispel the notion that U.S. influence was in retreat.
U.S. Aircraft Carrier Sails Through South China Sea (February 7): According to ABC, no one on board will say it so bluntly, but the ship is sailing through the South China Sea to send a deliberate message: these waters aren't China's alone. Related: Chinese Expert: Freedom of Navigation ≠ Freedom of Military Operations in South China Sea.
Technology, Surveillance, and Espionage
Cotton and Rubio Introduce Legislation to Prohibit U.S. Government Use of Chinese Telecommunications Companies (February 7): "Chinese telecom companies, like Huawei, are directly linked to the Chinese government and communist party. For national security reasons, we cannot allow a foreign adversary to embed their technology in U.S. government systems or critical infrastructure" said Senator Rubio.
Apple in Talks for First Order from Chinese Chipmaker (February 14): Apple will use these chips in new iPhone models and other products for sale in the Chinese domestic market specifically. Related: Apple Moves to Store iCloud Keys in China, Raising Human Rights Fears.
Alipay is Bringing Cashlessness to the U.S. (February 21): In order to cash in on the millions of Chinese tourists, Alipay, an affiliate of Alibaba, struck agreements with some 170,000 North America retail locations. According to Axios, Alipay will seek to try to scale up its U.S. presence, getting more boutique hotels and individual luxury brands to accept it.
 
Chinese Dangles Carrots to Lure Foreign Talent to its Silicon Valley (February 27): New foreign hires at Zhongguancun Science Park would enjoy generous visa terms and more would also get the coveted permanent residence certificate, which confers greater freedom of cross-border travel as well as local economic benefits. Related: Tech Mogul Gets $12 Billion Richer Just by Leaving New York for China.
Media, Soft Power, and Censorship
U.S. Lawmakers Nominate Hong Kong's pro-democracy Umbrella Movement for the Nobel Peace Prize (February 1): "This nomination could not be more timely as Hong Kong's long-cherished autonomy continues to erode, and Umbrella Movement leaders face reprisals simply for espousing basic human rights and freedoms," said Senator Marco Rubio, cochair of the Congressional-Executive Commission on China. Related: Ludicrous to Tout Hong Kong Rabble Rousers for a Nobel Peace Prize.
China-Vatican Deal on Bishops Ready for Signing (February 1): According to Reuters, an even partial resolution of the thorny issue of who gets to appoint bishops could open the way for a resumption of diplomatic relations nearly 70 years after they were cut during the Communist takeover of China.
New Hampshire Naturalist Featured in 'Pandas' Film (February 5): The result of Ben Kilham's research on China's panda population work was captured on the 3D film "Pandas" which will debut at the Simons IMAX Theatre at the New England Aquarium in Boston this April…Read More>>
Alibaba Sees Future in Hollywood Sci-Fi Co-Production (February 7): Alibaba's film unit and U.S. production house STX Entertainment will co-produce the upcoming science-fiction film "Steel Soldiers," extending a growing series of one-off tie-ups between China and Hollywood…Read More>>
China Detains Relatives of U.S. Reporters in Apparent Punishment for Xinjiang Coverage (February 28): China's security services have detained several close relatives of four U.S.-based reporters working for Radio Free Asia in an apparent attempt to intimidate or punish them for their coverage of the Muslim-majority Xinjiang region…Read More>>
Education and NGOs
Rubio Urges Florida Schools to End Chinese-Funded Education Partnerships (February 5): "There is mounting concern about the Chinese government's increasingly aggressive attempts to use 'Confucius Institutes' and other means to influence foreign academic institutions and critical analysis of China's past history and present policies," Senator Rubio wrote. Related: UWF Cuts Ties with Confucius Institute.
Private School With Global Ambition to Open in D.C. and China in 2019 (February 7): An education company backed by U.S. and Chinese investors is launching a global private school for students ages 3 to 18, with the first two campuses scheduled to open next year in Washington and the Chinese coastal city of Shenzhen…Read More>>
Chinese Government Gave Money to Georgetown Chinese Student Group (February 14):  Foreign Policy (subscription) reported the Georgetown University Chinese Students and Scholars Association received approximately $1600 in 2011 from the Chinese Embassy. The funding had not been previously made public; copies of the documents were provided to FP by a source concerned about Chinese Communist Party influence on university campuses.
China's Pernicious Presence on American Campuses (February 26): Confucius Institutes could be wholesome attempts to foster cultural exchange, in the manner of the Alliance Française or the Goethe-Institut. Outwardly they have some of that character. Confucius Institutes offer courses in Chinese language, culture, and the arts. But the Chinese Communist Party, which organizes and funds the Confucius Institutes through a state agency, the Hanban, is not known for altruistic cultural outreach…Read More>>
Trade and Economic Relations
With Sorghum Warning Shot, Beijing Targets Trump's Core Farm Base (February 5): China's Ministry of Commerce launched an anti-dumping and anti-subsidy investigation early February, potentially leading to hefty tariffs on imports of the ingredient used in livestock feed and the fiery Chinese liquor baijiu. Related: Beijing Targets Imports of Key Chemical from United States; China's Best Weapon in a Trade War with Trump May Backfire.
Despite Trump's Tough Talk, Trade Gap Widens to 9-Year High (February 7): The Commerce Department reported that the U.S. trade deficit in goods and services rose 12 percent to $566 billion last year, biggest since 2008. A record $2.9 trillion in imports swamped $2.3 trillion in exports last year.
China Calls on Foreign Enterprises to Follow Basic Ground Rules (February 7): Following the recent Mercedes-Benz apology for using a Dalai Lama quote with one of its ads, Chinese Foreign Ministry spokesperson Geng Shuang said "Correcting one's mistakes is a fundamental basis for one to behave and do business"…Read More>>
Anti-China Bill Being Softened After U.S. Companies Complain (February 8): "We are concerned that it vastly expands the scope and jurisdiction (of CFIUS)," said Nancy McLernon, chief executive of the Organization for International Investment, a group that represents global companies with U.S. operations. Related: Trump's Protection Plan to Keep 'Competitor' China at Bay (Informative Financial Times piece on the current state of play of CFIUS)(Subscription)
U.S.-China Flight Additions in Holding Pattern (February 9): United Airlines told Caixin that the carrier is also pulling back from second-tier Chinese cities for the moment, following the recent cancellation of flights between the U.S. and Hangzhou in eastern China and Xi'an in the nation's interior.
China Adds Weapons, Media to 'Sensitive' Overseas Investment List (February 11): China's non-financial outbound direct investment in 2017 fell 29.4 percent year-on-year to $120.08 billion, as the government mounted a campaign against what it called "irrational" outbound investment.
Republicans Challenge Trump on Steel, Aluminum Tariffs (February 13): Commerce Secretary Wilbur Ross submitted his department's final reports on the metals to Trump in January, and the president has until mid-April to decide on any potential action. Related: Inside White House Trade Fights; U.S. Slaps Duties on China Aluminum Foil as Xi Ally (Liu He) Arrives.
China Critic Set to Assume More Influential Role in Trump White House (February 26): Trump's decision to give Peter Navarro a higher rank comes as the president faces an April deadline to determine whether to impose tariffs and other measures to restrict imported steel and aluminum from China and other nations…Read More>>
U.S. Recycling Woes Pile Up as China Escalates Ban (February 27): China's import restrictions become even tighter March 1, increasing the sense of urgency U.S. recyclers feel to find new outlets for their products. At the same time, some industry officials say the situation could be a blessing in disguise if it eventually prods the U.S. toward processing more of its own recycling…Read More>>
If You Read/Watched Nothing Else in February…
The fine writing and film/videography on U.S.-China relations published each month far exceeds the assimilating capacity of any institution.  It would be ridiculous to feature "the best" efforts of the past 28 days, but KICUS would like to highlight the following work nonetheless:
Op-Eds and Commentary
The U.S. Risks Making a Strategic Blunder over China (Zhou Bo, The Financial Times [subscription], February 25)          
Articles/Essays
Limiting Chinese Aggression: A Strategy of Counter-Pressure (Charles Edel, The American Interest, February 9)
Disengagement Party? (Daniel H. Rosen, The Rhodium Group, February 27)
Blog Posts
Xi Won't Go (China File Conversation, February 25)
Competing with China in the Indo-Pacific (Abraham Denmark, Asia Dispatches, February 27)
Video
Vietnam's Relations with China and the U.S.: A Delicate Internal and External Balancing Act (Pan Jin'e, Murray Hiebert and Sun Yun, The Stimson Center, February 16)
Audio Recordings
The Polar Silk Road: China's Arctic Ambitions (The Wilson Center, February 6)
To Compete with China, Can America Get out of Its Own Way? (War on the Rocks, February 7)
About the Author
---
Kissinger Institute on China and the United States
The Kissinger Institute works to ensure that China policy serves American long-term interests and is founded in understanding of historical and cultural factors in bilateral relations and in accurate assessment of the aspirations of China's government and people. Read more