The Month in U.S.-China Relations 中美关系一个月 (May 2017)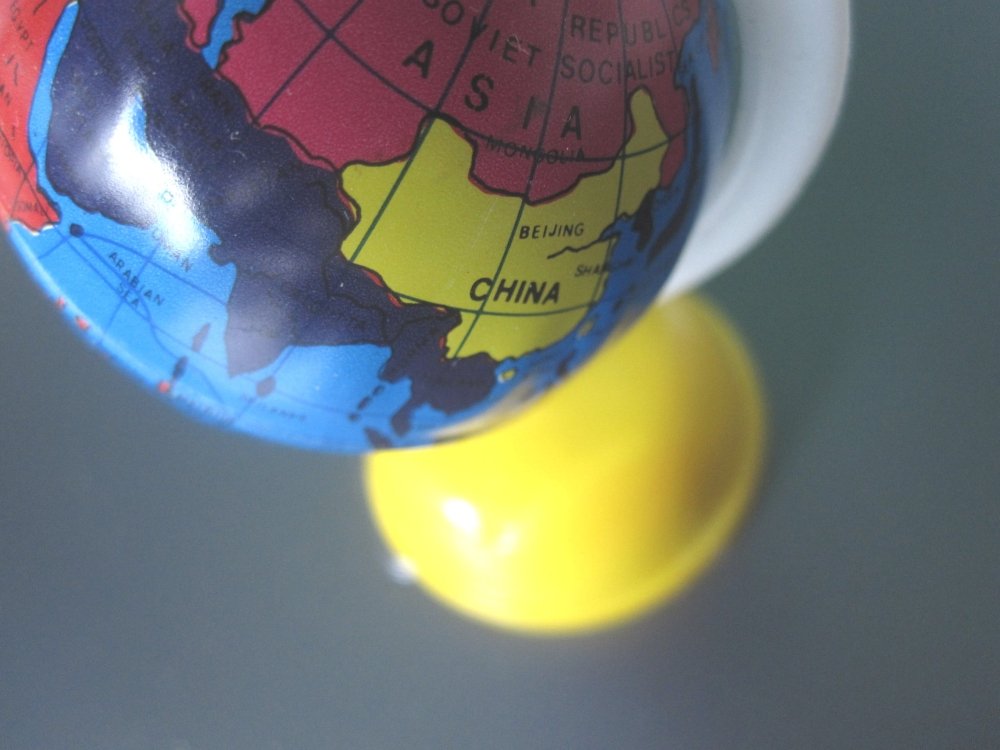 Would they or wouldn't they? Analysts had been speculating for weeks as to when the Trump Administration might authorize a freedom of navigation operation (FONOP) in the South China Sea. President Trump's harsh China rhetoric on the campaign trail and his criticisms of Obama as "weak" in defending U.S. maritime interests had led many Asia watchers to expect routine FONOPs under Trump. The New York Times reported in early May, however, that FONOP requests made by Pacific Command and the Navy had been turned down by top Pentagon officials. It appeared to some analysts that President Trump had decided to accommodate Beijing's interests. Not only were there no FONOPs under his administration, there was little bilateral trade friction, no representations on China's human rights record; Trump sent his top Asia expert, Matthew Pottinger, to Beijing's Belt and Road Forum, lending credibility to Xi Jinping's top foreign policy initiative.
Shortly after the forum, however, Chinese fighter jets intercepted American surveillance aircraft on two separate occasions over the East and South China Seas. U.S. officials claimed the moves were "unprofessional" and "unsafe". On May 25th, USNI News reported that Trump's first freedom of navigation operation had been conducted in the South China Sea. Beijing protested the passage of a U.S. warship within six nautical miles of Mischief Reef in the Spratly Island Chain. The two sides have a chance to refocus on the cooperative side of the relationship when they meet on the sidelines of the G20 Summit in Hamburg next month.
Sandy Pho
Senior Program Associate
Kissinger Institute on China and the United States
Major Issue Tracker
China as an Emerging Superpower
Asia's Regional Banks Lend Where Their Western Rivals Dare Not (May 3): According to the Financial Times, by the end of 2016, just one western bank was among the top 20 bank financiers for infrastructure in Asia. Chinese banks took seven places among the top 10. "In some respects, Chinese banks are prepared to change the basis on which these types of projects have been traditionally financed."
'Disgusting,' 'Extraordinary' Scene as Chinese Delegation Shouts Down Welcome Ceremony (May 3): The Kimberley Process is an international meeting focused on halting trade in conflict diamonds. According to attendees, the Chinese delegation interrupted and spoke over senior Australian officials in protest of Taiwan's participation. Related: U.S. 'Disappointed' Taiwan Not at WHO Assembly.
First Chinese-Built Passenger Jet Completes 'Beautiful' Maiden Flight (May 5): According to The Guardian, the C919, a twin-engine airliner designed to compete with the Airbus 320 and Boeing 737, took off from Shanghai's Pudong International airport on May 5th. Related: China's New Plane Will Be Helped Aloft by U.S. Technology.
'China Has Done Its Utmost' on North Korea (May 8): In this opinion piece for USA Today, Chinese Ambassador to the U.S., Cui Tiankai, proposes "the DPRK suspend its nuclear and missile activities, and the U.S. its targeted joint military exercises with the Republic of Korea."
China's New World Order: Xi, Putin and Others Meet for Belt and Road Forum (May 14): President Xi Jinping hosted world leaders in Beijing for the Belt and Road Forum May 13-14.    "What we hope to create is a big family of harmonious co-existence," Xi said. Related: American Dad Explains 'One Belt, One Road' as Bedtime Story (video); Text of Xi's Opening Speech at Opening of Belt and Road Forum; U.S. Warms up to OBOR; Hanban Pursues Teaching Mission; Will the Arctic be the Next Stop on China's New Silk Road?
Chinese Appetite for Totoaba Fish Bladder Kills off Rare Porpoise (May 16): There are no more than 30 vaquita–a five-foot porpoise–left in the northern Gulf of California today and they could be extinct within months…Read More>>
Farming the World: China's Race to Avoid a Food Crisis (May 22): In order for China to have enough affordable food for its people in the second half of this century, the world needs to grow food for 9 billion people. China's agricultural industry is undergoing a revolution that may be as influential as the industrial transformation of global trade.
China in U.S. Domestic Politics
Kushner Companies Apologizes for Touting Family Ties in China (May 8): Jared Kushner's sister, Nicole Kushner Meyer, headlined an event in Beijing aimed at attracting wealthy Chinese investors into a New Jersey luxury development. Investors were promised a high chance of getting a U.S. green card. Related: U.S. Senator Calls for Probe into Promotion of Kushner Cos Deal.
President Trump's Claims about When China Stopped Manipulating its Currency (May 16): According to the Washington Post, one of the biggest promises broken by President Trump is his pledge to label China as a currency manipulator. The Post gives us a rundown of how Trump's statements have evolved.
The U.S. Rebalance to Asia
New Trump Trade Rep Lighthizer Spars Over Protectionism in Asia (May 22): Trump's new Trade Representative, Robert Lighthizer, clashed with Asian counterparts in a meeting in Vietnam over protectionism and Trump's "fair trade" agenda…Read More>>
Branstad Confirmed as Envoy to China (May 23): The confirmation, by a bipartisan vote of 82 to 13, comes at a time when the U.S. is looking to Beijing, its biggest rival and trading partner, to step up economic pressure on North Korea's erratic regime. Related: American Businesses Welcome New U.S. Ambassador, Upbeat on Relations.
Southeast Asia and the South China Sea
Tillerson Urges ASEAN to Cut North Korea Funding, Minimize Ties (May 4): In his first meeting with all 10 ASEAN members, U.S. Secretary of State Tillerson urged all claimants in the South China Sea to cease island building and militarization. He also urged them to fully implement UN sanctions on North Korea…Read More>>
Chinese Deals in Malaysia Under Scrutiny (May 7): The slew of projects and investments by China's state-owned enterprises and their soft loans have been a major talking point in Malaysia since 2015 …Read More>>
Indonesia Islamist Leader Says Ethnic Chinese Wealth is Next Target (May 12): Bachtiar Nasir, leader of an Islamist organization in Indonesia, said the wealth of Indonesia's ethnic Chinese minority was a problem and advocated an affirmative action program for native Indonesians…Read More>>
High Stakes for Vietnam Prime Minister's Visit to Washington (May 29): Jonathan London argues in cogitASIA that the trip will result from hard-fought efforts of reformers in Vietnam's Communist Party to reach out to the United States.
Philippines, China Play Down Duterte's Talk of War in Disputed Sea (May 22): Duterte met China's President Xi Jinping for talks in Beijing and later said Xi had warned him there would be war if the Philippines tried to explore for oil in a disputed stretch of sea. Related: Duterte's China Deals, Dissected; China Conducts Training for Philippine Coast Guard Officials.
Military
No Change to U.S. Navy Freedom of Navigation Patrols (May 8): In response to a New York Times article, top Pentagon officials said there were no changes with regard to U.S. Navy FONOPs under President Trump.
UPDATE: According to USNI News, a U.S. destroyer sailed within six nautical miles of a Chinese artificial island on May 24th. China voiced a strong protest following the operation
Chinese Jets Conduct Unsafe Maneuver Near U.S. Aircraft (May 28): Two Chinese J-10 fighter jets conducted unsafe maneuvers while intercepting a U.S. surveillance aircraft that was operating in international airspace near the South China Sea. This was the second such incident in the past few weeks. The first intercept took place on May 17th…Read More>>
Espionage, Censorship and Surveillance
Edward Lin Admits to Disclosing Classified Information (May 4): Lt. Commander Edward Lin (a naturalized U.S. citizen from Taiwan), was accused of espionage and the mishandling of classified information last year. He pleaded guilty to less serious charges in May as part of a plea deal…Read More>>
China to Further Tighten Internet Controls (May 7): Xi has made China's "cyber sovereignty" a top priority in his sweeping campaign to bolster security. He has also reasserted the Communist Party's role in limiting and guiding online discussion…Read More>>
China Lawyer's Family Says U.S. Helped Them Flee (May 9): The AP reported in May that the wife of prominent human rights lawyer, Xie Yang, who is being held on charges of inciting subversion, managed to escape a Thai jail with the help of the United States government. Related: China Deports American 'Spy' Sandy Phan-Gillis back to U.S. After Conviction.
Chinese State Outlet Blames U.S. For 'WannaCry' Ransomware (May 18): According to The Hill, China Daily published an editorial that partly blames the National Security Agency for the ransomware outbreak and accuses the U.S. of "hindering" international efforts to combat cybercrime. Related: Why China's Universities are so Vulnerable to WannaCry.
Former Espionage Suspect Accuses FBI of Falsifying Evidence (May 10): According to the New York Times (subscription), when the Justice Department dropped charges against a Temple University physics professor in 2015, it acknowledged that F.B.I. agents and prosecutors had misunderstood the complicated technology that they accused him of illegally sending to China.
China Releases Draft of New Intelligence Law (May 17): China quietly released the first public draft of an intelligence law, giving authorities the power to monitor suspects, raid premises, and seize vehicles and devices while investigating domestic and foreign individuals and groups…Read More>>
Chinese Hacking Against U.S. Companies is 'Ongoing' but 'Reduced' (May 23): According to director of National Intelligence Dan Coats, Chinese hacking against U.S. targets is ongoing but "at volumes significantly lower" than before the agreement reached in 2015 …Read More>>
Woman Arrested for Smuggling U.S. Space Technology to China (May 23): Si Chen allegedly purchased and smuggled sensitive materials to China without obtaining required export licenses, including components commonly used in military communications. Related: Texas Men Accused of Conspiring to Sell US Trade Secrets to China Arrested in DC.
DOJ Cracking Down on Chinese Corporate Spies (May 25): According to Breitbart, six people were arrested in a roundup of a corporate spy ring passing military-applicable technology to a Chinese Company.
Media, Technology, and Soft Power
Wanda Bets $1 Billion to Transform Legendary Into Global Media Giant (May 3): Hollywood insiders see Legendary as a company in search of a CEO and a comeback…Read More>>
China Wields Soft Power in Africa (May 3): According to David Pilling, writing for the Financial Times (subscription), a "powerful story is taking hold…that sees China as a mostly positive actor with a record – unlike the west – of getting things done." Related: The United States and China in Africa: What Does the Data Say?
China Issues Five-Year Reform Plan on Cultural Industry (May 7): Xinhua reported that China is planning to develop its cultural industry into a pillar of the national economy by 2020 by upgrading its industrial structure, fostering major brands, and boosting consumption. A major focus is to "build public opinion fronts" online. Related: Carrots for China's News Industries.
In China, a TV Soap on Corruption Attracts a Mass Following (May 13): According to The Economist (subscription), "In the Name of the People" has attracted attention for its depiction of official corruption. Less noted is the insight it has offered into a range of China's economic problems. Related: China's New Political Thriller is No House of Cards.
China Redefines Terms for Taiwan, Hong Kong, and South China Sea (May 16): Xinhua news agency announced strict rules for how Chinese journalists should refer to dozens of sensitive issues. The rules cover topics ranging from people with disabilities and senior party officials, to Taiwan independence and the South China Sea…Read More>>
Apple's Hunger for Revenue in China May be Costly (May 18): Apple told several Chinese social-networking apps to disable their "tip" functions to comply with App Store rules. The "tip" function was once offered for free to inspire user engagement but now will be considered in-app purchases, which generates a 30 percent cut for Apple. According to the Wall Street Journal (subscription), the move risks alienating powerful Chinese companies.  
How a Plague on the Movie and Music Industries Became Their Chief Protector in China (May 21): As reported in the Wall Street Journal (subscription), Baidu is now a champion for copyright protections in China. Baidu used to be a major copyright violator, but became a creator and purchaser of content when it struck a deal to license original shows from Netflix Inc.
U.S. Congressional Leaders to Challenge China's Hollywood Quota (May 23): In an interview with TheWrap, Chris Fenton—a trustee of the U.S.-Asia Institute, which is leading the Congressional delegation, said, "This is much bigger than the quota negotiations, this is about…setting the tone for the relationship [between Hollywood and China] moving forward."
China Unleashes Zombie Films to Boost the Box Office (May 24): According to the Financial Times (subscription), the relaxation of the limits on foreign films in China points to the power of the profit motive to open up China's closed entertainment sector. The trend has also spawned introspection about the China's failure to produce domestic hits.
Is China Outsmarting America in A.I.? (May 27): As reported by the New York Times (subscription), China is spending more on A.I. as the U.S. cuts back. Quantifying China's spending is difficult because authorities there disclose little. Numerous provinces and cities are spending billions on robotics, and a part of that funding goes to artificial intelligence research.
Yao Ming's Firm Seeks $250m for Overseas Sports Assets with China Angle (May 29): Yao Capital is among China's first private investors in the sports sector. It will focus on sports-related products such as sports medicine, gaming and sporting rights…Read More>>
Think Tanks, Education, and Civil Society
China to Introduce Dual-Management of Think Tanks (May 4): The new guidelines stipulate that think tank activities should serve Party and government decision-making…Read More>>
Counterpoint: Universities in China (May 9): Robert Precht published an article in April arguing that western universities in China were failing to uphold human rights and violating the UN's Guiding Principles. He posted this counterargument by an experienced expert in May.
Top Chinese Researchers' Move to U.S. Sparks Soul-Searching in China (May 9): American trained life-scientist Ni'eng Yan is rejoining Princeton University after a decade working in China. The move sparked debate in China over the country's unwelcoming research environment and whether it's contributing to China's brain drain…Read More>>
Chinese Student at University of Maryland Slammed for Commencement Speech (May 22): Yang Shuping began her speech at the May ceremony by explaining that "fresh air" had brought her to UMD. The speech triggered a furor among Chinese students around the U.S., who though Yang's speech was insulting and unpatriotic. Related: Can Free Speech on American Campuses Withstand Chinese Nationalism?
Trade and Economic Relations
Despite Setbacks, Trump's Trade Warrior Peter Navarro is Fighting On (May 8): Mr. Trump's decision to kill the National Trade Council, created shortly after the election and led by Mr. Navarro, raised questions about how much influence economic "nationalists" still had over policies. Related: Trump's Trade Warrior is the Most Unpopular Economist in the Class.
Cheap Chinese Aluminum Is a National Security Threat (May 8): According to Foreign Policy (subscription), since China joined the WTO in 2001, cheap Chinese aluminum has flooded American markets, closing factories and putting people out of work. The number of aluminum smelters in the United States has fallen from 23 to 5 in that time. Related: Money From Chinese State Giants Helped Fund Aluminum Stockpile (subscription).
Alipay to Debut in U.S., Hot on Heels of WeChat (May 9): "Our goal is to extend reliable payment services to the over 4 million Chinese consumers that visit North America every year," said Souheil Badran, president of Alipay North America…Read More>>
China's $246 Billion Foreign Buying Spree is Unraveling (May 10): Cross-border purchases plunged 67 percent during the first four months of this year, the biggest drop for a comparable period since 2009, according to data compiled by Bloomberg.
Results of the 100-Day Action Plan (May 11): The U.S. Department of Commerce published this press release outlining actions taken by both sides to address issues ranging from agriculture to investment. The Wall Street Journal (subscription) explains what all the gobbledygook means.
U.S. Lawmakers Sharpen Criticism of MoneyGram Deal (May 14): In letters addressed to U.S. Treasury Secretary Steven Mnuchin, obtained by the Financial Times (subscription), Republican senators Pat Roberts and Jerry Moran said the Beijing-backed acquisition of MoneyGram could hurt America's financial infrastructure.
U.S.-China Beef Deal Possible by Early June (May 22): U.S. ranchers face tests over use of growth hormones in cattle exported to China…Read More>>
China's 117-Page Wish List for 'Win-Win' Trade Ties (May 25): The Chinese government wants to beef up infrastructure cooperation with the U.S. and import more soybeans and aircraft, according to a document released by the Chinese Ministry of Commerce…Read More>>
If You Read/Watched Nothing Else in May…
The fine writing and film/videography on U.S.-China relations published each month far exceeds the assimilating capacity of any institution.  It would be ridiculous to feature "the best" efforts of the past 31 days, but KICUS would like to highlight the following work nonetheless:
Podcasts
The Negotiator: Charlene Barshefsky (Sinica, SupChina May 11)
Op-Eds and Essays
U.S.-China Relations Set Up to Fail (Gregory Kulacki, Union of Concerned Scientists, May 9)
Don't Worry, Hollywood. China's Not a Threat (*John Pomfret, LA Times, May 26)
*The Kissinger Institute hosted John Pomfret in February to launch his new book, U.S.-China Relations: The Stories So Far. A webcast of the discussion can be viewed on our website.
Policy Brief
How Not to Lose Asia to China (Michael H. Fuchs and Nina Hachigian, Foreign Policy [subscription], May 3)
Report
Everything You Think You Know About Coal in China Is Wrong (Melanie Hart, Luke Bassett, and Blaine Johnson, Center for American Progress, May 15)
China's Social credit System: A Big-Data Enabled Approach to Market Regulation with Broad Implications for Doing Business in China (Mirjam Meissner, Mercator Institute for China Studies, May 24)
Video
China's Athletics System Seeks to Learn from American Sports Culture (As featured on Asia Blog, May 22)