For Iranian Women, a Bittersweet Celebration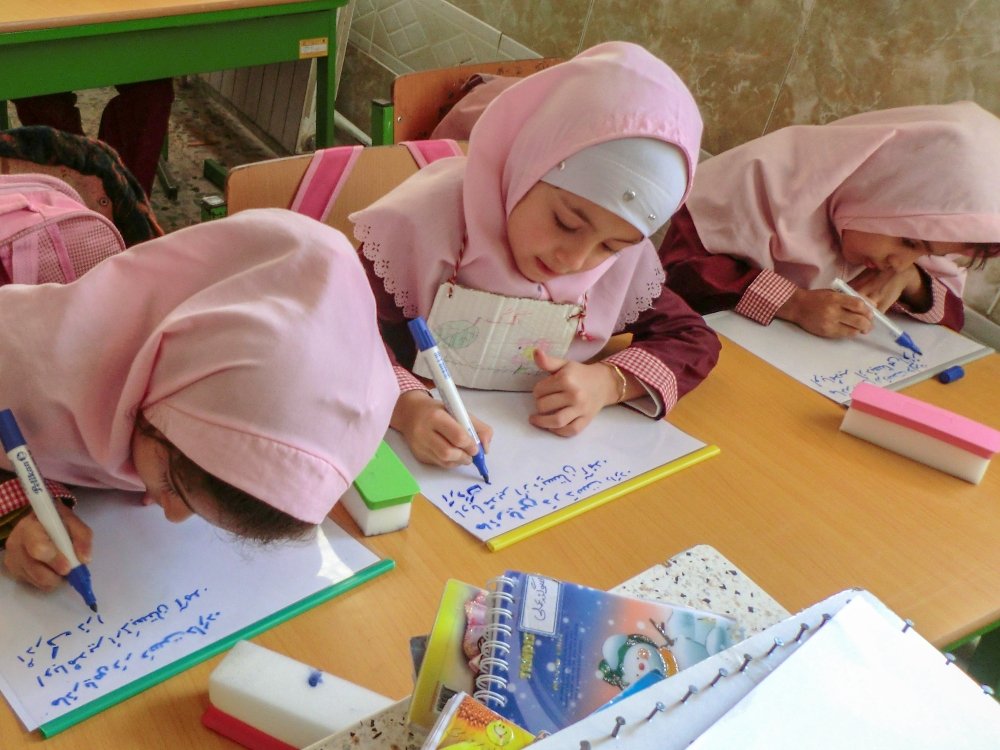 Despite unending official harassment and repression, on this International Women's Day, Iran's women have something to celebrate after all.
Women around the world are preparing to celebrate International Women's Day on March 8. But the preoccupation among women in Iran will be with the mysterious and widespread cases of poisoning of girls (and in fewer cases, in boys) in schools across many parts of the country. The first cases appeared in the city of Qom in November, where 18 schoolgirls fell ill and needed to be hospitalized. Since then, over 900 girls have suffered from similar symptoms in schools in Tehran, Ardabil, Kermanshah, Isfahan, and other towns and cities. Some of the victims have been hospitalized with heart palpitation, numbness in their hands, and nausea. Many reported dizziness and a foul smell, as of rotten fish or rotten fruit, in classrooms.
The Minister of Health, Bahram Eynollahi, was initially inclined to downplay the seriousness of the outbreak, describing the symptoms as only of 'light poisoning'. But the BBC has reported videos of schoolgirls being loaded into ambulances and lying in hospital beds. While in many cases the symptoms disappeared in a short period of time, in others, girls continued to feel ill for a long period of time. The minister himself spent hours visiting girls in the hospital in Qom. While he initially asserted that investigating the causes of the poisoning was not necessarily the Health Ministry's responsibility, he later announced a committee of the best toxicology experts in the country would work to determine the cause of these poisoning cases. President Ebrahim Raisi has also ordered an investigation, but, in a reflection of the government's confused and often contradictory response to the illness outbreak, Raisi on March 3 blamed Iran's "enemies" for the poisoning of schoolchildren. On March 6th, the Supreme Leader, Ali Khamenei, in brief remarks said once identified, the perpetrators must be severely punished. This was an admission that the poisonings were a deliberate act.
The promise of a thorough investigation will not quiet public suspicions. 'Investigative committees' and 'committees of enquiry' under the Islamic Republic usually end up in a white-wash or they are dragged out until people lose interest. After the death of Mahsa Amini at the hands of the morality police on September 13 last year—the incident that led to months of protest demonstrations—President Raisi promised an investigation into the circumstances of Mahsa's death and an early report. Now, six months later, there is still no report; the government has forgotten about the promised investigation.
In the absence of any meaningful official explanation for these widespread cases of poisoning-attributed illness, rumors have been rife, and members of the public have come up with their own ideas. According to the BBC, some girls and their mothers believe the suspected poisonings are a punishment for girls who took part in the recent protests. Others believe the aim is to discourage girls from attending school or an attempt to close down girls' schools altogether. Surprisingly, this was an idea articulated by none other than Younes Panahi, the deputy Minister of Health. "It became clear that some people wanted all schools, especially girls' schools, to be shut down," he said. But Panahi quickly retracted his statement, claiming he was misquoted.
But if such were the aims of the unexplained poisoning outbreak, the authorities will be disappointed. They should know by now that the young women of Iran's Generation Z cannot be easily intimidated. For the last six months, beatings, tear gas, arrests, imprisonment, and rape while in custody failed to deter young women from continuing to come out in large numbers to protest the killing of Mahsa Amini. The government's attempt, in these last few months to reimpose some form of the Islamic hijab has basically failed and its future remains shaky. In many neighborhoods of Tehran and other Iranian cities, women have discarded their hijabs altogether, and women with and without the hijab mix in public. Clearly wary of another uprising, the morality police are leaving women alone for the time being.
More broadly, for this younger generation, there is no turning back to conditions that existed before last year's uprising. Women draw encouragement from the massive support they received and continue to receive from the Iranian diaspora and its effort to draw media attention to the struggle of Iranian women. Women in Iran also know that their movement has energized women's movements, civil society and human rights groups from North America to Australia, from New Zealand to Europe. There is hardly an activist group that is not now familiar with the slogan birthed by the death of Mahsa Amini: "Women, Life, Liberty." International recognition provides the incentive for Iranian women to continue their long struggle for freedom and rights.  Despite unending official harassment and repression, on this International Women's Day, Iran's women have something to celebrate after all.
About the Author
---
Middle East Program
The Wilson Center's Middle East Program serves as a crucial resource for the policymaking community and beyond, providing analyses and research that helps inform U.S. foreign policymaking, stimulates public debate, and expands knowledge about issues in the wider Middle East and North Africa (MENA) region. Read more
Middle East Women's Initiative
The Middle East Women's Initiative (MEWI) promotes the empowerment of women in the region through an open and inclusive dialogue with women leaders from the Middle East and continuous research. Read more