The Reconstruction of Ukraine: Three Experts Offer Priorities for the Future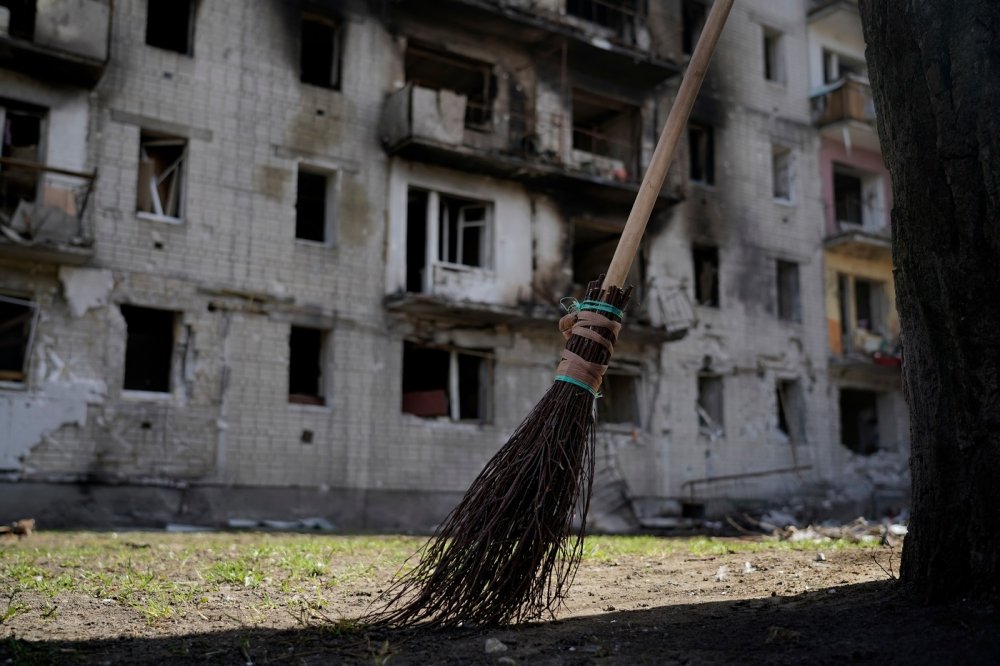 BY MYKHAILO MINAKOV
Postwar rebuilding will be a monumental task for Ukraine. Politicians and economists from Ukraine and around the world have already started discussing the cost of Putin's war and what rebuilding might look like. Prime Minister Denys Shmyhal and the Ukrainian cabinet are working on the "U-24" reconstruction plan. A key question concerns where rebuilding should start. Which priorities should be advanced to make Ukraine a stronger and more developed nation in the postwar future? I asked three experts to weigh in and respond to this question.
Oksana Antonenko, Global Fellow at the Kennan Institute
The cost of Russia's invasion of Ukraine is expected to exceed $1 trillion if, as most experts now expect, the fighting continues until the end of this year. However, Ukraine has already secured an unprecedented commitment from the EU, the United States, and G7 countries, as well as from international financial institutions, for significant financial support to assist with rapid economic reconstruction. Some funds are expected to be diverted from confiscated Russian assets, although there are significant legal hurdles for such a strategy.
There are, however, some factors that could delay the process, including a security deficit (such as an extended period of fighting without a durable ceasefire), an economic recession in Europe (or globally), or political instability in Russia or Ukraine. A separate issue is the problem of translating financial commitments into practical results on the ground. Unfortunately, the international community does not have a good track record in implementing fast and efficient post-conflict reconstruction programs (the Balkans are a case in point). The EU has no experience in handling reconstruction and the membership integration process at the same time. It is both an opportunity and a challenge. 
There are several phases to the post-conflict reconstruction process. The initial rebuilding of houses and basic infrastructure in areas where the fighting has stopped and demining has been completed can begin immediately, as most of the needed materials can be sourced and delivered within Ukraine. However, a more fundamental transformation of Ukraine's economy is unlikely to commence before a sustainable ceasefire is agreed on and implemented, given that such an economic transformation would require not only financial assistance but also private sector participation and investment.
Because Ukraine and Europe view reconstruction as the foundation of Ukraine's economic integration with the EU, it is important to start by agreeing on the overall strategy for Ukraine's long-term role within the European economy, by focusing in particular on its comparative advantages, including its agricultural, renewable energy, and technology sectors.
This vision should then be used as the basis for identifying priorities, which should cover not just the most affected areas but the entire territory of Ukraine. It is likely that the central and western parts of Ukraine will be able to integrate more quickly and will form the anchor for the future economic development of eastern Ukraine. Physical rebuilding should be accompanied by institutional transformation, which is essential for successfully completing the membership accession process.
Vadym Denysenko, Director, Ukrainian Institute for the Future
The current debate on the reconstruction projects of Ukraine is mainly focused on the source of funding, which, I believe, is wrong. The first and most important part of the reconstruction plan should deal with reconstruction of the political system and the creation of conditions for cooperation between government, business, and the citizenry.
I am sure that after the war, we will have to relaunch Ukraine's political system, learning from past mistakes. Some of these mistakes are built into our constitution: for example, our executive branch is headed by the prime minister, a position that is currently rather useless, as its holder is squeezed between two powerful actors—the president and the parliament. At the moment, the prime minister can only do two things: open and close government meetings. She or he is unable to influence the composition or policies of the cabinet.
Ukraine needs to re-balance the branches of power and conduct a thorough review of its political design. We have lived with this ineffective distribution of authority for 30 years, and now we must change this failing construct.
In addition to this super-strategic issue of reform of the political system, the reconstruction plan should provide answers on some immediate tasks and other strategic aims.
First, it should envision the return of Ukrainian refugees from European nations. Around 6.4 million Ukrainians have left the country, while another six to seven million citizens have left their homes and relocated to western parts of Ukraine. The plan should provide them all with a future.
Second, the reconstruction plan should include deoligarchization. The war has reduced the role of the oligarchs in Ukrainian politics. Ukraine's restoration should not let them return to power. Instead, we should accept strong antitrust legislation, civilized rules of lobbying, and new regulations for the mass media to keep it free from oligarchic influence.
Third, the new economy of Ukraine cannot rely on post-Soviet industries. We should aim at building a new, technologically advanced economy, starting with an overhaul of the military-industrial complex and ending with a reboot of the pragmatically oriented Academy of Sciences.
Fourth, a complete change in the humanitarian sphere is needed. New Ukraine should develop a new citizen-oriented culture of historical memory, education, and cultural policies.
The reconstruction is a chance for Ukraine to overcome the consequences of war. But it is also the chance to improve our political and economic systems and create a brighter future for our country.
Ilona Sologoub, VoxUkraine Scientific Editor
The rebuilding of Ukraine should start today: it's in the interest not only of Ukraine but of the entire world. And the rebuilding should start with safety: Ukraine needs anti-aircraft and anti-missile systems to protect it from indiscriminate bombing, since there is not much sense in building or reconstructing anything if it can be bombed again at any moment. Ukraine needs heavy, sophisticated weapons to win the war and make it possible to start reconstruction without the constant threat of a nuclear or other missile strike.
Second, Ukraine can draw on its agricultural sector both to respond to the global food crisis and to acquire resources for own reconstruction. For that, Ukraine will need NATO military convoys to help it export its grain and feed the world.
Third, when it becomes possible, the postwar development of Ukraine should be based on building rather than on rebuilding. This relates not only to physical infrastructure but, first of all, to political, legal, and economic institutions. So, the construction (rather than reconstruction) plan should focus on such daring priorities as judicial reform, education reform, and tax administration reform, as well as strengthening the antitrust authority. Ukraine's infrastructure and logistics should be redirected for trade with Western countries. The housing sector should aim to quickly provide internally displaced persons and refugees with living space and rebuild destroyed neighborhoods.
Clear prospects and road maps for EU and NATO accession are necessary to speed up these reforms and keep them on track.
The opinions expressed in this article are those solely of the authors and do not reflect the views of the Kennan Institute.
---
Kennan Institute
The Kennan Institute is the premier U.S. center for advanced research on Russia and Eurasia and the oldest and largest regional program at the Woodrow Wilson International Center for Scholars. The Kennan Institute is committed to improving American understanding of Russia, Ukraine, Central Asia, the Caucasus, and the surrounding region though research and exchange. Read more