Política de Drogas, en busca de un consenso latinoamericano
Latin American Program Global Fellow Juan Carlos Garzón is quoted in an article about the challenges in reaching a new consensus on drug policy in Latin America; particularly in regards to legalization and regulation. This article is in Spanish.
[...]
"Los que se han llamado gobiernos de izquierda más cercanos al Alba han tenido posiciones que van un poco en contravía del debate actual. Tiene varias razones, de índole de política local y características de los países. Las posiciones más conservadoras las tienen Venezuela, Nicaragua, y en algún momento Ecuador, aunque ahora ha llevado a cabo algunos cambios en la política interna", dice Juan Carlos Garzón, investigador del Woodrow Wilson Center y asesor de varios gobiernos latinoamericanos.
Incluso Bolivia, que se apartó de la Convención Única de Estupefacientes del 61 en su defensa del uso tradicional de la coca, tiene una posición muy distinta frente al tema del consumo. "Esto tiene que ver con el rechazo a una postura más propia del liberalismo y a la reivindicación del derecho de las personas. En estos países el Estado tiene un peso mayor en la vida de los individuos y tiene que velar por unos valores. Eso hace que cuando se enfrentan al tema de las drogas, ven algo que se escapa al manejo del Estado y donde este tiene que cuidar a sus ciudadanos de algo terrible muy vinculado con el capitalismo", añade Garzón.
De hecho, dice, había una expectativa en Colombia de que las Farc tuvieran una posición mucho más beligerante respecto al tema de las convenciones internacionales. Si uno mira los acuerdos, sí producen muchos cambios importantes, pero no es que cuestionen todo el sistema de fiscalización internacional. Las Farc tienen una concepción en términos de la producción, del campesinado, y el problema del consumo es algo un poco nuevo en esa temática. Falta explorar más de dónde se explican las resistencias. [...]
To read full article click here.
About the Author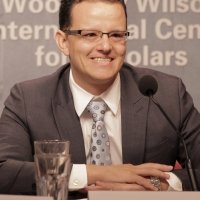 Juan Carlos Garzón
Global Fellow;
Security and Conflict Resolution Expert; Former Consultant, United Nations Development Program and Organization of American States
Read More
---
Latin American Program
The Wilson Center's prestigious Latin American Program provides non-partisan expertise to a broad community of decision makers in the United States and Latin America on critical policy issues facing the Hemisphere. The Program provides insightful and actionable research for policymakers, private sector leaders, journalists, and public intellectuals in the United States and Latin America. To bridge the gap between scholarship and policy action, it fosters new inquiry, sponsors high-level public and private meetings among multiple stakeholders, and explores policy options to improve outcomes for citizens throughout the Americas. Drawing on the Wilson Center's strength as the nation's key non-partisan forum, the Program serves as a trusted source of analysis and a vital point of contact between the worlds of scholarship and action. Read more
Latin American Program
The Wilson Center's prestigious Latin American Program provides non-partisan expertise to a broad community of decision makers in the United States and Latin America on critical policy issues facing the Hemisphere. The Program provides insightful and actionable research for policymakers, private sector leaders, journalists, and public intellectuals in the United States and Latin America. To bridge the gap between scholarship and policy action, it fosters new inquiry, sponsors high-level public and private meetings among multiple stakeholders, and explores policy options to improve outcomes for citizens throughout the Americas. Drawing on the Wilson Center's strength as the nation's key non-partisan forum, the Program serves as a trusted source of analysis and a vital point of contact between the worlds of scholarship and action. Read more