South Korea's Minister of the Interior and Safety Kim Bookyum Meets Wilson Center Scholars in Aftermath of Hanoi Summit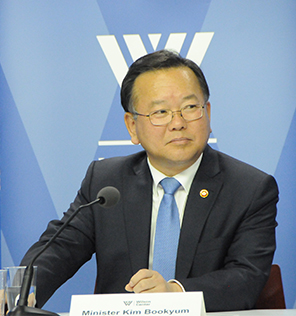 "What happens next?" is a key question following the breakdown of the Hanoi Summit in February 2019. In the mix of optimism and skepticism toward US-North Korea relations, South Korea's outgoing Minister of the Interior and Safety of Republic of Korea Kim Bookyum paid a visit to the Wilson Center on March 7, 2019. He sat down for a private discussion with Hyundai Motor-Korea Foundation Center for Korean History and Public Policy director Jean H. Lee, Asia Program director Abraham Denmark, Fulbright fellow Jungkun Seo and public policy fellow Soojin Park. Also joining the session: Kim's ministry team, including director general of International Administrative Cooperation Lim Jung-Taek and director of International Cooperation Division for Good Governance Ko Woong Joe, and the Wilson Center's Korea Foundation junior scholars Hye Jin Lee, Sung Woo Lim and Yee Rem Kim.
In their candid and wide-ranging discussion, Kim and Wilson Center scholars analyzed what took place in Hanoi and debated what steps should be taken not only by President Donald Trump and Chairman Kim Jong Un but also regional players, including President Moon Jae-In and President Xi Jinping.
Minister Kim's visit took place just hours before President Moon announced a Cabinet reshuffle that will see Minister Kim relinquish his position in the government and return to political life. Author of I am a Democrat, Kim devoted much of his career to serving in the National Assembly. 
About the Author
---
Hyundai Motor-Korea Foundation Center for Korean History and Public Policy
The Center for Korean History and Public Policy was established in 2015 with the generous support of the Hyundai Motor Company and the Korea Foundation to provide a coherent, long-term platform for improving historical understanding of Korea and informing the public policy debate on the Korean peninsula in the United States and beyond. Read more
Asia Program
The Asia Program promotes policy debate and intellectual discussions on U.S. interests in the Asia-Pacific as well as political, economic, security, and social issues relating to the world's most populous and economically dynamic region.  Read more