The Month in U.S.-China Relations 中美关系一个月(March 2016)
"March Madness" aside, this was the calmest month in U.S.-China relations in recent memory. In Washington, President Obama and General Secretary Xi reaffirmed their support for constructive relations on the sidelines of the Nuclear Security Summit. Obama reaffirmed that the "United States welcomes the rise of a peaceful, stable, and prosperous China" and Xi again declared China's desire to work "with the United States to build a new model of major country relations."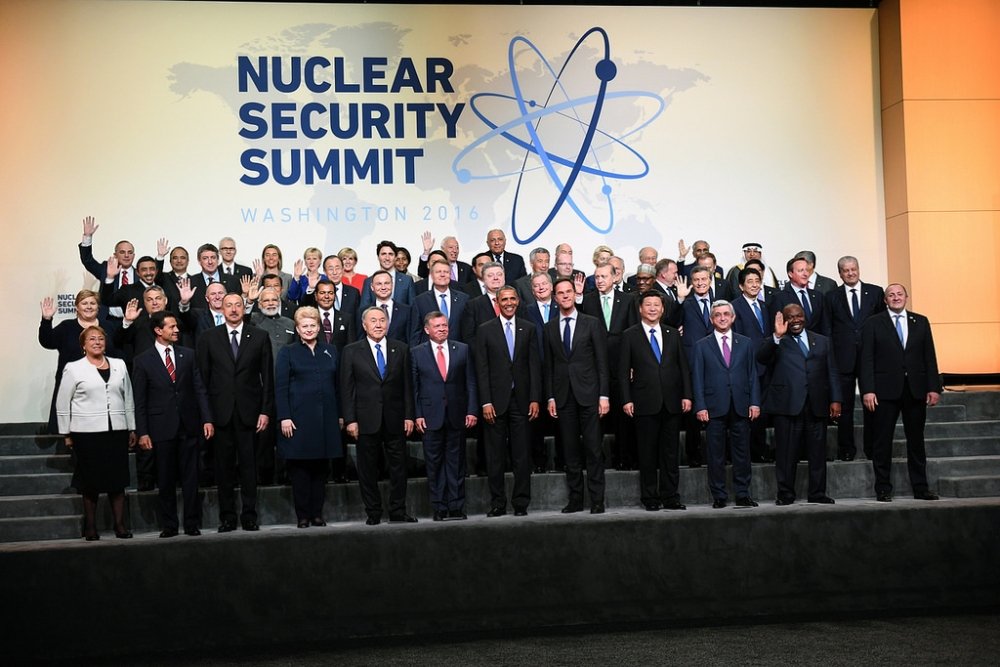 "March Madness" aside, this was the calmest month in U.S.-China relations in recent memory. In Washington, President Obama and General Secretary Xi reaffirmed their support for constructive relations on the sidelines of the Nuclear Security Summit. Obama reaffirmed that the "United States welcomes the rise of a peaceful, stable, and prosperous China" and Xi again declared China's desire to work "with the United States to build a new model of major country relations." A joint statement on climate change and an agreement to "narrow differences" and "strengthen coordination in addressing the shared threat presented by North Korea" followed. At the National People's Congress in Beijing, predictability was the name of the game as well. Premier Li Keqiang announced an annual growth rate of 6.5-7 percent and repeated his government's commitment to economic reforms.
March saw a surge of articles on Xi Jinping's leadership to date and his future directions. Although most analysts don't see China descending into full-blown Maoism (class warfare, intellectuals tossed into gulags, etc.), many are concerned about Xi's concentration of power and his crackdown on dissent. In China, a whisper campaign and an anonymous letter calling for Xi's resignation resulted in the detention of at least 11 people, including relatives of a suspected author of the letter. The Kissinger Institute will continue to follow Xi's impact on bilateral relations through public programs and publications in the coming months.
China as an Emerging Superpower
Major Powers Team up to tell China of Concerns Over New Laws (March 1): According to Reuters, the ambassadors to China of the United States, Canada, Germany, Japan and the European Union wrote to the Beijing government to express concern over three new laws, including one on counterterrorism, in a rare joint bid to pressure Beijing into taking their objections seriously.
UN Imposes Sanctions on North Korea (March 3): North Korea faces harsh new UN sanctions following a unanimous Security Council vote on a resolution drafted by the United States and China. Pyongyang responded by firing short-range missiles…Read More>>
Chinese Leaders Talk Economic Growth, Structural Reforms at National People's Congress (March 7): According to CNBC, the NPC pledged its continued commitment to reform in hopes of dispelling fears of a hard landing.  For more analysis please read these South China Morning Post, NPR, and BBC pieces.
China Offers Afghan Army Expanded Military Aid (March 9): As reported by the Wall Street Journal, China will help Kabul combat the Taliban, a move that reflects Beijing's readiness to deepen its engagement with Afghanistan. Please also see this Khaama Press piece.
China Invests in Russian Far East (March 11): Chinese firms have invested more than $1.9 billion in Russia's Far East development projects. Cooperation in developing the sparsely populated but resource rich territory is a major joint interest of the two powers…Read More>>
'Not Fit to Lead': Letter Attacking Xi Jinping Sparks Witch-Hunt in Beijing (March 31): A letter calling for Xi Jinping to step down appeared on a Chinese website in early March. It was dismissed by many China watchers as quickly as it was taken down by Chinese censors. But as reported in The Guardian, it has led to the detention of more than two dozen people thought to be linked to the letter.
The U.S. Rebalance to Asia
U.S. Naval Deployments in the South China Sea (March 4): The U.S. Navy dispatched an aircraft carrier and five escort ships to the South China Sea last month, according to Fox News. 
U.S., South Korea Practice Striking North's Nuclear Plants (March 7): The United States and South Korea carried out joint military exercises last month, including rehearsals of surgical strikes on North Korea's main nuclear facilities. The Chinese foreign ministry expressed "deep concern" about the situation…Read More>>
DNI Assesses Chinese Militarization in the South China Sea (March 8): USNI News published an unclassified letter from Director of National Intelligence James Clapper to Senator John McCain answering questions on Chinese reclamation and militarization of its disputed holdings in the South China Sea.
U.S.-China Nuclear Security Training Facility Opens (March 18): U.S. Secretary of Energy Ernest Moniz, a host of international VIPs, and the China Atomic Energy Authority commissioned China's new nuclear security Center of Excellence (COE)…Read More>> 
White House Documents from Obama-Xi Meeting (March 31):
Southeast Asia and the South China Sea
Mahathir Says ASEAN Powerless to Stop China's Incursions, (March 2): Southeast Asian nations are hemmed in on the disputed South China Sea and avoid confronting China because of its sheer clout, according to former Malaysian leader Mahathir Mohamad…Read More>>
Indonesian Lawmakers Conclude Defense Agreements with Germany, China (March 2): According to the Jakarta Post, the Indonesian legislature ratified a defense agreement with China last month. The agreement would launch a joint China-Indonesia special forces exercise and establish a military technology transfer program. Related: Indonesia Eyes China-Made Air Defense System.
China's Rising Influence in Laos (March 3): China has increased its investments in Laos in recent years, funding new highways and a railway connecting China's Yunnan Province with Laos and mainland Southeast Asia. U.S. President Barack Obama will be the first U.S. president to visit Laos later this year…Read More>>
China Floats South China Sea 'Cooperation Mechanism' (March 9): According to the Straits Times, China has proposed setting up a cooperation mechanism for coastal states in the South China Sea, as part of an effort to improve regional maritime collaboration.
China to set up Maritime 'Judicial Center' (March 13): As reported by Reuters, China plans to set up an "international maritime judicial center" to help protect the country's sovereignty and rights at sea. It is not clear when the judicial center may launch operations, where it would be located, or what kinds of cases it would accept. Related: China's Plan for Lawfare in the Maritime Domain
China Looms Over Philippine Elections (March 14): China's growing assertiveness in the South China Sea is putting Philippine presidential candidates in a tricky situation, as they struggle to balance tough talk on national sovereignty with a desire to improve ties and boost trade with their  powerful neighbor...Read More>>
Malaysia Seeks Australian Support in Dispute (March 15): According to The Guardian, the Malaysian defense minister met with his Australian counterpart to discuss China's military buildup in the disputed South China Sea. Related: A Malaysia 'Pushback' Against China in the South China Sea? and Asian nations turn to Australia to combat China threat in South China Sea
Indonesia Vows to Prosecute Chinese Trawler Crew (March 23): As reported in The Guardian, Indonesia has refused Chinese demands that it release eight fishermen arrested for illegal fishing and accused China of raising tensions in the region. Related: After Spat, Chinese Flotilla Heads to Indonesia for Joint Drills; Indonesia MPs Call for Military Base after Fishing Spat with China; Jokowi Urged to Ease Tensions over Natuna.
Taiwan Shows off Taiping Island (March 24): Taipei invited a group of foreign journalists to visit Taiping, an island controlled by Taiwan but claimed by China, Vietnam, and the Philippines. The purpose was to show the international community that Taiping is entitled to a 200 mile EEZ…Read More>>
Cyber, Espionage, and Crime
Norway Accuses China of Stealing Military Secrets (March 1): Lieutenant General Morten Haga Lunde has accused Chinese government hackers of conducting cyber-espionage against Norway-based firms to steal sensitive military data and state secrets…Read More>>
Extradition Battle Looms Over U.S.-China Relations (March 13): According to the Financial Times, the Chinese government has threatened to halt judicial co-operation with the U.S. if a federal prosecutor does not agree to return one of Beijing's most wanted men.
Chinese National Guilty of Conspiring to Hack into U.S. Defense Contractors' Systems (March 23): According to the Department of Justice, a Chinese national pleaded guilty to participating in a years-long conspiracy to hack into U.S. defense contractors' computer networks, steal sensitive military and export-controlled data, and send the stolen data to China. For more analysis, please see this Business Insider piece.
Military
China Defense Buildup Slows (March 3): According to Bloomberg, the pace of China's defense spending growth will slow to between 7 and 8 percent this year as President Xi Jinping carries out the most sweeping military overhaul in decades.
U.S. General: China Will Overtake the U.S. Air Force by 2030 (March 3): As reported in the Business Insider, U.S. Air Force chief-of-staff General Mark Welsh told a House Appropriations Committee's that China's People's Liberation Army Air Force could overtake the U.S. Air Force by 2030. Video of General Welsh's and Secretary of the Air Force, Deborah Lee James' testimony can be found here.
China Should Copy America's DARPA, Says Top Scientist (March 10): China's leading quantum physicist, Pan Jianwei, said last month that China should create a government agency to make greater use of the civilian sector in defense-related research. He pointed to the U.S. Defense Advanced Research Projects Agency as a good model for China…Read More>>
CNO: 'Risk Calculus' of South China Sea Ops (March 14): Speaking last month at the Future of War Conference, Adm. John Richardson said that, "We've been working very closely with Chinese and other nations in that region to establish a rule set for encounters at sea, encounters in the air. And we've been seeing increased cooperation, increased use of that rule set"…Read More>>
Soft Power
Xi Backs "China-U.S. Tourism Year" (March 1): As reported in Xinhua, President Xi Jinping said he looks forward to increased people-to-people exchanges between China and the United States as the two sides kick off "The China-U.S. Tourism Year."
No Oscar Streaming in China (March 1): Chinese online streaming site iQiyi cancelled a planned live bilingual broadcast of this year's Oscars, possibly due the nomination of two politically sensitive documentaries…Read More>>
China & Donald Trump (March 8): According to the Wall Street Journal, the number of original posts about Donald Trump on China's Twitter-like Weibo rose to more than 300 a week in February. The hashtag #超级星期二, or #SuperTuesday, has attracted over 5,400 comments and 12.8 million clicks on Weibo.
China Enlists Hollywood to Spread its Culture (March 10): Early next year, Matt Damon will headline "The Great Wall," a historical epic filmed in China with Chinese and American stars, a Chinese director, a cast and crew of roughly 1,300, and $150 million budget. According to the Chicago Sun Times, it could be China's first international blockbuster.
China Blasts U.S. Human Rights Abuses in a New Documentary (March 15): China's state television channel CCTV broadcast a 45-minute documentary last month to hundreds of millions of households in China, accusing the U.S. of severe human rights abuses from sexual assault to gun violence to racism… Read More>>
Media
The PRC's Richest Man is the Biggest Owner of U.S. Movie Theaters (March 4): AMC Entertainment, the movie-theater chain owned by Chinese conglomerate Dalian Wanda, has purchased Carmike Cinemas, known as "America's hometown theater circuit," for $1.1 billion. The deal puts AMC into the top spot in the U.S. movie-theater industry…Read More>>
Chinese Magazine Challenges Government over Censorship (March 8): One of China's most respected current affairs magazines, Caixin, lashed out at Communist Party censorship just weeks after General Secretary Xi Jinping demanded absolute loyalty from his country's media…Read More>>
'Zootopia' Stampedes Across China to Record Box Office Results (March 8): According to Forbes, Disney's Zootopia had a record-breaking opening weekend in China last month. The talking animal toon rustled up $23.7 million in the PRC, second among animated films only to Kung Fu Panda 3's $52 million January debut.
China Media Capital Joins Front Rank of Sino-Hollywood Investors (March 8): China Media Capital (CMC) announced last month that it had taken a minority stake in Brian Grazer and Ron Howard's Imagine Entertainment. CMC said the move allowed it to "enter into the heartlands of the world's movie and television industries"…Read More>>
New Rule Bans All Foreign Media from Publishing Online in China (March 10): A new Chinese rule banning all foreign media from publishing online provides legislative backing for the government's control of the Internet and "cyber sovereignty." …Read More>>
'Ip Man 3' Distributor Guilty of Box-Office Fraud (March 20): According to MarketWatch, China's film regulators suspended the license of a film distributor for inflating ticket sales for the movie "Ip Man 3," which features American boxing champ Mike Tyson.
China-U.S. Film Summit (March 29): Studio executives from U.S. and Chinese movie studios gathered on the outskirts of Beijing for the inaugural China/U.S. Motion Picture Summit on March 25th. The purpose was to foster an ongoing conversation between filmmakers from Hollywood and China…Read More>>
Education and Academic Relations
Q. and A.: Zhang Fan on Chinese 'Parachute Kids' (March 1): The New York Times interviewed the father of a Chinese student convicted to 6 years in prison on charges of kidnapping and assaulting another student in the U.S.  
The U.S. Privileges Foreign STEM Students (March 9): As reported by Quartz, The White House announced that, starting in May, foreign students at U.S. colleges will be able to stay in the country for three years of on-the-job training after graduation if they study science, technology, math, or engineering. Why no extend the same privilege to students of political science, history, foreign affairs, or American studies?
Chinese Students Bring Discord on U.S. Campuses (March 17): A Wall Street Journal piece claimed that increasing numbers of Chinese students on harm campus culture and pedagogy in U.S. universities. Dingding Chen offered a rebuttal in The Diplomat.
Chinese High School Students in America (March 28): The Department of Homeland Security  reported a 5,927 percent increase in Chinese secondary school students since 2005, with 38,089 now in U.S. secondary schools, 95 percent of those private…Read More>>
Trade and Economic Relations
Airbus, Boeing Mix Politics and Business in China (March 1) China is poised to become the world's largest aerospace and air-travel market within two decades. Boeing plans to open a plant in China because of proximity to that market and to earn goodwill from the CCP…Read More>>
China's Hoverboard Makers Band Together (March 7): More than 100 Chinese hoverboard sellers, assemblers, and component suppliers formed a trade association called the Hoverboard Industry Alliance. The group will work with organizations that set standards for safety and patents in the U.S. and worldwide, according to Quartz. 
Sanctions Over Iran Sales Could Hurt Apple Chipmakers (March 9): U.S. regulators imposed sanctions on Chinese mobile gear maker ZTE for illicitly re-exporting controlled items to Iran in violation of U.S. export control laws. According to Investor's Business Daily, the sanctions could hurt Apple chip suppliers Qualcomm, Qorvo, and Skyworks Solutions. For more, see these Wall Street Journal and Financial Times pieces.
Wall Street's Frustrated Chinese Bankers Head Home (March 10): As U.S. firms cut bonuses and positions, many Chinese seek better opportunities at home…Read More>>
Bounty Hunter Tracks Chinese Companies That Dupe Investors (March 15): Wall Street bounty hunter Robert W. Seiden tracks down executives of Chinese companies that listed on United States exchanges and then blew up. According to the New York Times, Seiden is the go-to person for American investors swindled by Chinese companies.
Opposition to Chinese Syngenta Bid (March 24): According to Dow Jones Business News, U.S. opposition to the largest-ever acquisition by a Chinese company is growing. A top farm-state senator says the $43 billion takeover of seed giant Syngenta AG could pose risks to the security of America's food supply.  Related: China's Global Food Quest
U.S.-China Investment Treaty: Disagreements Over 'Negative List' Persist (March 24): As reported by the International Business Times, the U.S. and China are nearing the end of negotiations over a Bilateral Investment Treaty (BIT). Last September, the two countries reaffirmed that finalizing the accord was a "top economic priority."
If You Read/Watched Nothing Else in March…
The fine writing and film/videography on U.S.-China relations published each month far exceeds the assimilating capacity of any institution.  It would be ridiculous to feature "the best" efforts of the past 60 days, but KICUS would like to highlight the following work nonetheless:
Blog
What's Driving the Current Storm of Chinese Censorship? (ChinaFile Conversation, Asia Society, March 15)
Report
China's 13th Five-Year Plan (Bloomberg Brief, March 7)
A Framework for U.S. Policy Toward China, an Asia Working Group Paper, Jeffrey Bader
Assertive Engagement: An Updated U.S.-Japan Strategy for China (Admiral Dennis Blair, Sasakawa Peace Foundation, March 25)
Essay
How China Won the War Against Western Media: The One-Two Punch of Censorship Plus Propaganda has Discredited Western Journalism in the Eyes of Many Chinese (Bethany Allen-Ebrahimian, Foreign Policy, March 4)
Book
China's Future, by David Shambaugh, Polity Press (March 2016)
Video
Portrait of a Beijinger: Woman of Tai Chi (the Anthill, March 7)
Thanks for reading and for your continued support of The Kissinger Institute on China and the United States.
About the Author
---
Kissinger Institute on China and the United States
The Kissinger Institute works to ensure that China policy serves American long-term interests and is founded in understanding of historical and cultural factors in bilateral relations and in accurate assessment of the aspirations of China's government and people. Read more