The Month in U.S.-China Relations 中美关系一个月 (May 2016)
When the Pentagon dispatched the USS William P. Lawrence within 12 nautical miles of Fiery Cross Reef in the Spratlys on May 10th, the Defense Department said the operation was conducted to "challenge excessive maritime claims by China, Taiwan, and Vietnam, which were seeking to restrict navigation rights in the South China Sea." China quickly condemned the operation and blamed the United States for destabilizing and militarizing the region.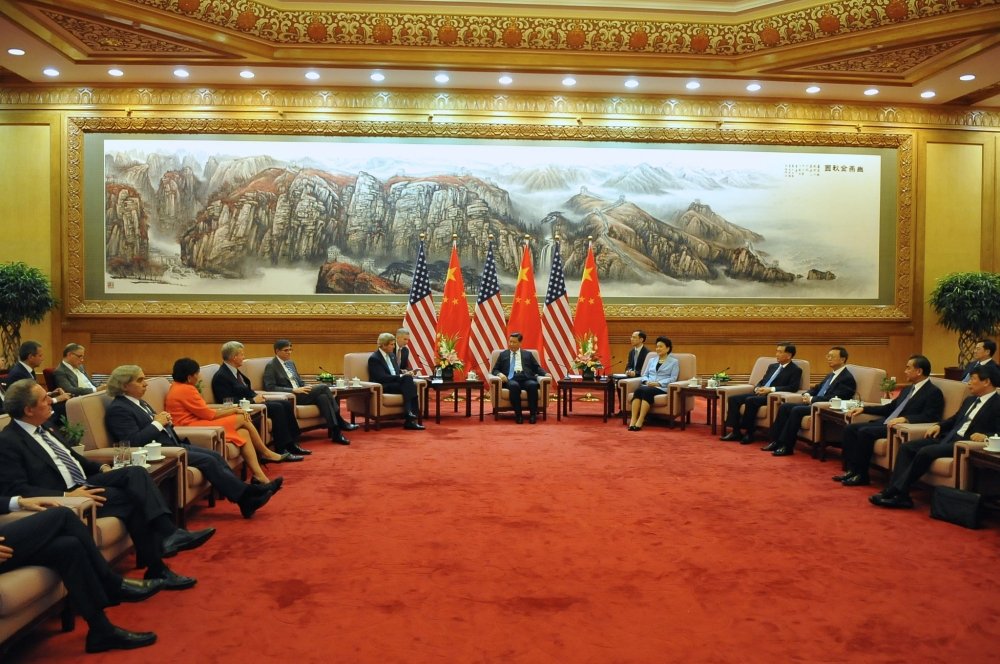 Would they or wouldn't they? Analysts had been speculating for weeks as to when the United States might conduct its third freedom of navigation operation in the South China Sea and where it would take place.  When the Pentagon dispatched the USS William P. Lawrence within 12 nautical miles of Fiery Cross Reef in the Spratlys on May 10th, the Defense Department said the operation was conducted to "challenge excessive maritime claims by China, Taiwan, and Vietnam, which were seeking to restrict navigation rights in the South China Sea." China quickly condemned the operation and blamed the United States for destabilizing and militarizing the region. That spat was followed in May by U.S. allegations that Chinese fighter jets had flown perilously close to an American surveillance plane operating in international airspace, which China vigorously denied. Beijing had a more subdued reaction to Washington's May 23rd announcement that it was lifting a decades-old arms embargo on Vietnam. Following the announcement, China's Foreign Ministry said it hoped the relationship would be "conducive to regional peace, stability, and development."
The two sides have a chance to refocus on the cooperative side of the relationship at the annual Strategic & Economic dialogue this week in Beijing. That meeting will be preceded, however, by the Shangri-La summit in Singapore, which is likely to be contentious, and will likely be followed by a decision by the International Court of Justice on the Philippines' suit challenging the legitimacy of China's 9-dash line in the South China Sea. 
Sandy Pho
Program Associate, Kissinger Institute
China as an Emerging Superpower
China Rolls Up Welcome Mat (May 3): The Chinese legislature passed a law that put all foreign NGOs under police administration with onerous registration and reporting requirements, essentially treating them as a security risk. According to the Wall Street Journal, "Many will be forced to leave." Related: Understanding China's Foreign NGO Activities Law.
China's Jewel in the Heart of the Indian Ocean (May 9): As reported in The Diplomat, the Colombo Port City project was conceived by Sri Lanka, but is now a Chinese undertaking. Sri Lanka's strategic position makes it an ideal location for a financial and commercial center on China's Maritime Silk Road. Related: The Indo-Pacific Century. 
Railway, Port Cooperation to Label China-Arab Relations (May 12): At the seventh ministerial conference of the China-Arab States Cooperation Forum, Chinese Foreign Minister Wang Yi emphasized that railways and ports (along the "Belt" of China's One Belt One Road initiative) are key symbols of the China-Arab relations …Read More>>
Behind China's Gambit in Pakistan (May 12): According to this CFR Expert Brief, The China-Pakistan Economic Corridor (CPEC) reflects expanded bilateral cooperation despite persistent concerns about Pakistan's security and development.
China Extremely Dissatisfied with G7 Statement on South China Sea (May 27): China rejected a statement by G7 leaders on the contentious South China Sea. China is not in the G7 but its rise had put it at the heart of discussions at the summit in Japan…Read More>>
China in U.S. Politics
Trump: 'We can't Continue to Allow China to Rape our Country' (May 2): Donald Trump on Sunday compared the U.S. trade deficit with China to rape. "We can't continue to allow China to rape our country, and that's what they're doing," Trump said…Read More>>
Bill to Remove the Term "Oriental" from U.S. Law Signed by President Obama (May 20): Legislation sponsored by U.S. Rep. Grace Meng (D-Queens) that removes the derogatory, antiquated term "Oriental" from federal law was signed by President Obama.
Virginia Gov. Terry McAuliffe under Federal Investigation for Campaign Contributions (May 24): Among the McAuliffe donations that drew investigators' interest was $120,000 from a Chinese businessman, Wang Wenliang. Wang was previously a delegate to China's National People's Congress, the country's ceremonial legislature…Read More>>
Wyden Testifies on Injury to U.S. Steel Producers at International Trade Commission (May 24): At the International Trade Commission, Senate Finance Committee Ranking Member Ron Wyden (D-Ore) called for the U.S. to use every tool at its disposal, including the new Leveling the Playing Field Act provisions, to respond to unfair trade by China, …Read More>>
The U.S. Rebalance to Asia
The TPP would let America, not China, Lead the way on Global Trade (May 2): President Obama's op-ed in the Washington Post argued for ratification of the TPP, singling out China as an economic competitor the TPP "would give us a leg up on."
U.S. Destroyer Passes Near Chinese Artificial Island in South China Sea Freedom of Navigation Operation (May 10): According to USNI News, a U.S. guided missile destroyer came within 12 nautical miles of a contested artificial island in the Spratly Island chain.
Obama: Big Nations Should not Bully Smaller Ones (May 24): President Barack Obama stressed the need to work with regional institutions such as ASEAN and the East Asia Summit and called for peaceful dispute resolution in an address to the People of Vietnam …Read More>>
Obama Makes Historic Visit to Hiroshima Memorial Peace Park (May 27): President Obama became the first sitting U.S. president to visit Hiroshima. During the visit, he spoke about the costs of war and the need for nuclear disarmament, but did not apologize for U.S. actions during World War II…Read More>>
Full Transcript of Secretary of Defense Ash Carter's Naval Academy Commencement Address (May 27): In his commencement speech at the Naval Academy, Defense Secretary Ash Carter described the need for America to counter China and remain the primary guarantor of security in the Asia-Pacific: Harsh Talk from U.S. Military only Undermines Peace in Asia-Pacific.
Southeast Asia and the South China Sea
China Builds Ties as well as Airstrips in South China Sea (May 4): According to the Financial Times, Beijing claims the governments of Belarus, Brunei, Cambodia, Laos, and Russia all support its position on the South China Sea. Related: China Gets Weak Support for South China Sea Policies
China, Laos Increase Security Cooperation after Attacks on Chinese (May 4): China and Laos have agreed to step up security cooperation after attacks on Chinese nationals in the poor, landlocked Southeast Asian nation, state media said last month as Laos' president visited Beijing.
South China Sea: How We Got to This Stage (May 9): Madame Fu Ying, Vice Minister of the Foreign Ministry of the PRC, reiterated China's view of South China Sea disputes…Read More>>
Scrolling Forward to Better Sino-Malaysia Ties (May 11): As reported in the Straits Times, Malaysia and China agreed to settle issues related to the South China Sea through the Declaration on the Conduct of Parties in the South China Sea (DOC).
Beijing Calls U.S. 'Greatest Threat' in Region (May 11): China took a rhetorical hard line last month, calling U.S. military actions in the South China Sea the "greatest threat" to stability in the region and vowed to increase its own military presence in the region…Read More>>
A Challenge in the Philippines (May 19): This New York Times debate, featuring former Wilson Center fellow Dr. Patricio Abinales, asked 4 experts to discuss how the U.S. should deal with President-elect Rodrigo Duterte, who is known as "the punisher" in the Philippines.
Chinese Consortium in Malaysia to Lobby for Multi-Billion Dollar Rail Project (May 23): A group led by national railway operator China Railway Corp. is pushing for a high-speed rail project linking Singapore and Malaysia's capital, Kuala Lumpur. The bid is backed by the Chinese government …Read More>>
Obama Ends U.S. Arms Embargo on Vietnam During Visit to Former Enemy (May 23): President Obama lifted a decades-long American arms embargo on Vietnam and touted a new friendship with the United States' former enemy…Read More>>
Indonesian Navy Fires Shots, Seizes Chinese Fishing Boat (May 30): Indonesia's navy said had shot at a Chinese trawler when it refused to stop fishing in Indonesian waters, and then seized the vessel and its eight crewmembers…Read More>>
Cyber, Espionage, and Surveillance
China Cyber Probes Show Electronic Warfare Focus, Pentagon Says (May 13):  China's military conducted cyber probes and intrusions against U.S. computer networks to support intelligence collection and electronic warfare, according to a new Pentagon report…Read More>>
Collateral Damage (May 15): Bill Whitaker reported on Americans wrongly accused of espionage as the U.S. steps up the fight against Chinese theft of U.S. intellectual property.
Military
China Accuses Pentagon of 'Blowhard Performance' in Port Snub (May 4): China claimed that it was a "series of tricks" played by the U.S. military that prompted it to refuse a port visit to American warships in Hong Kong, but said that the snub should not be blown out of proportion…Read More>>
PLA Woos Young Recruits with Slick Video Featuring Rock and Rap Soundtrack (May 4): China's military is appealing to youth with a new recruitment video featuring aircraft carriers, tanks, and special forces troops, set to a rap-rock soundtrack…Read More>>
China and Russia to Hold Anti-Missile Drill after U.S., South Korea Talk Defense (May 5): China and Russia will hold their first joint computer-assisted anti-missile drill, state media said, after the U.S. and South Korea discussed deployment of an anti-missile defense system …Read More>>
A U.S. Admiral's Bluntness Rattles China, and Washington (May 6): Admiral Harry B. Harris Jr. has drawn attention in Beijing and Washington by describing Chinese intentions in terms far harsher than those used by President Obama …Read More>>
China Slams "Hyped Up" U.S. Report on Military Buildup (May 15): China condemned the U.S. Defense Department's annual report on the Chinese military, calling it a deliberate distortion that has "severely damaged" mutual trust…Read More>>
China Says it Followed Rules in U.S. Aircraft Intercept (May 26): According to Reuters, China said its aircraft had followed rules of engagement after two of its fighter jets carried out what the U.S. said was an "unsafe" intercept of a U.S. military reconnaissance aircraft. Related: China Says it's ready if U.S. 'Stirs up any Conflict' in South China Sea
China to Send Nuclear-Armed Submarines into Pacific (May 26): The Chinese military is poised to send submarines armed with nuclear missiles into the Pacific Ocean for the first time, arguing that new U.S. weapons systems have so undermined Beijing's existing deterrent force that it has been left with no alternative…Read More>>
Soft Power
China's President Xi Jinping warns party schools against 'Western capitalist' values (May 1): Xi Jinping warned Communist Party training institutes against spreading "Western capitalist values" and bad-mouthing state policies, according to Qiushi magazine…Read More>>
China Protests U.S. Accusations of Abuse of Religious Groups (May 5): China lodged a diplomatic protest with the United States after a U.S. government commission said Chinese violations of religious freedom last year remained "severe"… Read More>>
New York Dance Troupe says China Banned Shows over Falun Gong Links (May 6): A New York-based dance troupe accused China of forcing cancellation of its shows in South Korea over its links to a banned spiritual movement that Beijing calls "an evil cult"…Read More>>
Hip Song Gives Karl Marx Good Rap (May 29): A new hip-hop song titled "Marx Is Post-90s," aims to make Karl cool again. The song, written for an upcoming television show and posted to a social media account of the Communist Party's youth arm, hopes to convince Chinese students that Marx still speaks to them…Read More>>
Why an American POW Chose Mao's China over Home (May 29): As an uneducated black man from Tennessee, Clarence Adam figured he was better off in China than the U.S. after his release from a prisoner-of-war camp following the Korea conflict…Read More>>
Snow White and Captain America Appear at new Chinese park, Disney Vows to Sue (May 30): China's richest man, Wang Jianlin, opened his new theme park last month and said that, unlike Disneyland, which is "fully built on American culture," his park would "place importance on local culture." …Read More>>
Media and Technology
Apple loses China Trademark case for 'iPhone' on Leather Goods (May 4): As reported by Reuters, Apple lost a battle opposing use of the "iPhone" trademark on leather goods in China. A Beijing court ruled against the world's biggest technology company in favor of a local firm.
Facebook Beverages Won't be a Thing in China After Rare Trademark Win (May 9): Chinese people won't be able to quench their thirst with a refreshing "face book" beverage, after the U.S. company won a rare trademark victory against a local firm in China…Read More>>
'Captain America' Filmmakers to Produce Chinese Superhero Franchise (May 10): Following the massive debut of 'Captain America: Civil War,' which opened to $95.8 million in China, Joe and Anthony Russo will produce a local-language franchise targeting the Chinese audience. Movie buffs have already nicknamed the project "Captain China"…Read More>>
U.S. Embassy Q&A Scrubbed from Chinese Social Media Site (May 20): According to the Wall Street Journal, an online public outreach effort by the U.S. Embassy in Beijing was abruptly shut down last month. The case highlighted Beijing's anxieties over "Western values" and suggested that Washington may be too skilled at soft power for its own good.
China Builds Teaching, Research Base for Socialist Journalism (May 29): Xinhua reported that Tsinghua and Fudan University had unveiled a joint program on "socialist journalism with Chinese characteristics."
China's Xiaomi Buys Microsoft Patents to Spur Global Forays (May 31): In a deal that may smooth potential legal tangles over intellectual property, Xiaomi Corp. bought nearly 1,500 technology patents from Microsoft Corp …Read More>>
Education and Academic Relations
If Philosophy Won't Diversify, Let's Call It What It Really Is (May 11): The vast majority of philosophy departments in the United States offer courses only on philosophy from Europe and the English-speaking world. This New York Times opinion piece argues for the study of the thought of China and other civilizations in American universities. 
Chinese Crackdown Forces Intellectuals Abroad (May 24): Political scientists and law experts are fleeing to America as Beijing cracks down on academic freedom…Read More>>
Industry Helps Chinese Game their Way Into and Through U.S. Colleges (May 25): This Reuters special report examines companies that help foreign students at U.S. colleges earn their degrees. The companies author essays for clients, handle their homework, and take their exams. Those familiar with the investigation said most of the cheating suspects were Chinese nationals. 
Trade and Economic Relations
China's Uber Headache (May 9): Uber and Didi Kuaidi drivers in China see ride-hailing apps as a convenient and flexible way to make money, even though the services are technically not legal. Such attitudes are echoed by a growing number of their customers…Read More>>
Chinese State Entities Argue They Have 'Sovereign Immunity' in U.S. Courts (May 11): Some Chinese state-owned entities, backed by the government agency that oversees major state industrial companies, have adopted a controversial defense when facing U.S. lawsuits: You can't touch us because we enjoy sovereign immunity…Read More>>
A Chinese Paper Maker Commits to Green Production in Virginia (May 12): A new investment case study  by the Paulson Institute tells the story of a multibillion-dollar greenfield investment in Virginia that uses corn stalks to produce paper and fertilizer.
China Eats Jobs and Lobsters up in Maine (May 15): While China has been blamed for the disappearance of blue-collar jobs in Maine, the rise of the Chinese middle class has also created a voracious new market for Main lobsters.  According to the Washington Post, exports of lobsters to China totaled $20 million in 2015.
Chinese Investment in U.S. Real Estate to Grow Substantially (May 16): Last year, Chinese citizens spent $28.6 billion on homes in the United States, a 15-fold increase over 2010. Such growth is just getting started, according to a report issued last month by Asia Society and the Rosen Consulting Group. Related: Chinese Investment in U.S. Real Estate Tops $300 Billion.
Alibaba Vows to Keep Fighting Fakes Despite IACC Snub (May 16): The U.S.-based International Anti-Counterfeiting Coalition (IACC) announced last month that it would suspend Alibaba's membership, after member companies, including Michael Kors, Gucci America, and Tiffany, quit to protest Alibaba's inclusion. Related: Alibaba Facing SEC Investigation Over Accounting Practices
U.S. Levies Hefty Duties on Chinese Steel (May 27): According to Reuters, corrosion-resistant steel from China will face U.S. anti-dumping and anti-subsidy duties of up to 450 percent under the U.S. Commerce Department's latest clampdown on steel imports. Related: China Accuses U.S. of Hampering Trade with Steel Duties.
Wal-Mart Needs to Grow Overseas, and China's the Big Prize (May 31): Wal-Mart can't rely on growth from its U.S. business, as it faces intense competition from Amazon.com and dollar stores. "China remains a strategic market for our future," Doug McMillon, CEO of Wal-Mart Stores Inc. told investors…Read More>>
If You Read/Watched Nothing Else in May…
The fine writing and film/videography on U.S.-China relations published each month far exceeds the assimilating capacity of any institution.  It would be ridiculous to feature "the best" efforts of the past 60 days, but KICUS would like to highlight the following work nonetheless:
Blog
What do China's Global Investments mean for China, the U.S., and the World? (David Dollar, The Brookings Institution, May 18)
Essays
The New Nationalism: 'Make My Country Great Again': Xi's China Dream meets Trump's "Making America Great Again" (Zheng Wang, The Diplomat, May 10)
How to Bring Vietnam into the U.S. Fold (Sandy Pho, Real Clear World, May 20)
Report
Annual Report on Military and Security Developments Involving the People's Republic of China (U.S. Department of Defense)
Book
This Brave New World: India, China and the United States (Anja Manuel, Simon & Schuster, May 10)
Videos
Relations with Mainland Loom Large for Taiwan's New President (Wilson Center NOW with Dr. Vincent Wei-cheng Wang, May 25)
Cooperation or Confrontation: U.S.-China Relations on the Eve of the Strategic & Economic Dialogue (CSIS, May 26)
Podcast
Obama Removes Decades-Old Ban On Weapon Sales To Vietnam (NPR, May 23)
Thanks for reading and for your continued support of
The Kissinger Institute on China and the United States.
About the Author
---
Kissinger Institute on China and the United States
The Kissinger Institute works to ensure that China policy serves American long-term interests and is founded in understanding of historical and cultural factors in bilateral relations and in accurate assessment of the aspirations of China's government and people. Read more